by Thomas Atzenhoffer on The Bleacher Report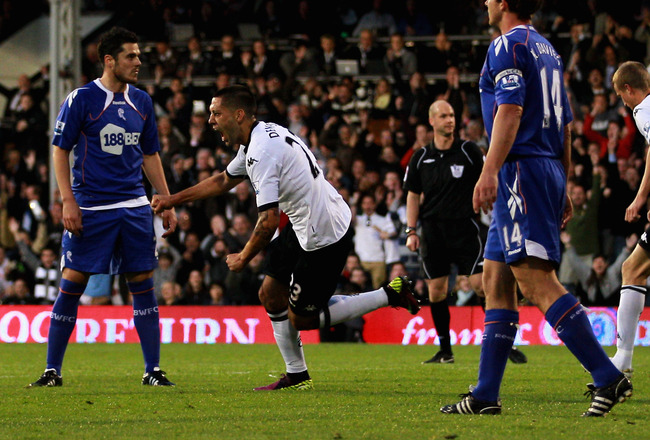 Dean Mouhtaropoulos/Getty Images
In what has been a landmark season for Clint Dempsey, the American forward continues to make a name for himself in the English Premier League.
Following a 2010 appearance in the UEFA Europa League, Fulham had high hopes for success this EPL season. However, the departure of Manager Roy Hodgson for Liverpool during the summer slammed the doors on many of those hopes.
Former manager Mark Hughes was appointed to take his place, and after what was believed to be a season doomed for relegation the London club have risen from the brink thanks to stand-out performer Clint Dempsey.
The Texan and USA Men's National Team member has been on a run of fabulous form since the United States' run in the 2009 Confederations Cup, in which the Americans nearly took the trophy from Brazil.
Dempsey was key to Fulham's success in their run to the Europa League final, and took center stage at the 2010 World Cup for the United States alongside Landon Donovan.
He became only the second American ever to tally a double-digit goal total in the English Premier League on March 19, 2011 in a loss to Everton. Brian McBride, during his own time at Fulham, was the first.
The loss to Everton is the only game Dempsey has scored in that the Cottagers have failed to take points from.
His meteoric rise to fame in the Premier League and the halls of American internationals abroad continued to take off today. Behind the bells and whistles of "El Clasico," the UEFA Champion's League first leg of Real Madrid vs Barcelona, the former Furman Paladin put two into the back of the net in Fulham's 3-0 victory over Bolton.
With those two goals, Dempsey takes his total to 12 on the season, with an additional three assists.
He now sits in eighth place on the EPL scoring list, tied with Newcastle United Captain Kevin Nolan, Javier Hernandez of Manchester United and Tottenham's Rafael Van Der Vaart.
Not only did his performance propel Dempsey above any American in the history of the Premier League, it also made him Fulham's leading scorer in the Premier League era. The 33rd strike of his Fulham career lifted him past Steed Malbranque and Brian McBride.
The Cottagers have taken 19 of 21 points in their last seven home games, and with four games remaining they sit in ninth place on 42 points with a spot in next season's top flight all but guaranteed.
Much of that is thanks to their American hit-man.
You can follow me on Twitter
@thedailyatz
and
Facebook
or visit my personal
WebSite