Carroll and Kuyt, Please Stand Up
by Thomas Atzenhoffer on The Bleacher Report
April 12, 2011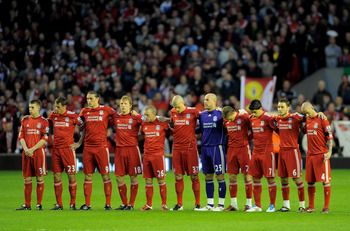 Michael Regan/Getty Images
On a night that held so much remembrance of life and loss for Liverpool it was an inspired performance by the Reds.
A minute of silence before the game remembered the 96 fans that were crushed at Hillsborough 22 years ago this coming Friday. It also held thoughts and prayers for a fallen Merseyside hero, Soldier Lance Sargent Mark Burgan killed recently in Afghanistan, and the tragic loss of Jan Fairclough the wife of former Kop Hero David Fairclough.
Monday night saw Anfield come alive as the Reds thoroughly demolished a Manchester City side that looked like they left their boots at home. In one of their most impressive displays of the season, Liverpool made a statement that despite the constant criticism that they don't have enough quality players, they can still get the job done as a team.
Reading Joe Hart's lips and James Milner's body language was all you had to do to see the frustration mounting for the Blues. The loss of their captain Carlos Tevez in the opening half just after Carroll's long-range belter signified the end for the Manchurians, as they never got off the ground without their engine to drive them forward.
Mario Balotelli replaced the Argentine and continued to show no signs of being a success in England and was truly shown the door as he was subbed off at the 83rd minute for midfielder Nigel De Jong.
Though it was thought that the Blues fielded a weaker side than faced Sunderland, I don't believe that was the case. David Silva, De Jong and Balotelli were not involved, but in their place were Eden Dzeko, James Milner and Gareth Barry. If that is a weakened side, trade them and give me City's millions.
With both teams' European desires tossing about in the balance, it showed that Liverpool still is fighting for Europe and respect, while Manchester City's 5-0 victory at Sunderland might not be all it was cracked up to be.
All of that in mind, let's give some credit where it is due to a Liverpool side that put in a great team effort and earned a deserved 3-0 victory in front of the Kop
.............CLICK HERE TO START THE SLIDESHOW AND READ MORE