Another American Owner in the EPL
by Thomas Atzenhoffer on The Bleacher Report
April 11, 2011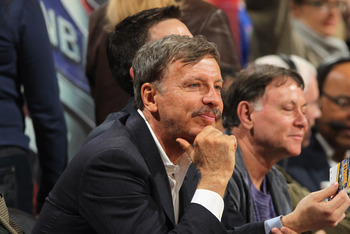 Doug Pensinger/Getty Images
London based Arsenal have become the latest English Premier League club to come under the control of American Owners. Long-time shareholder Stan Kroenke, Owner of Kroenke Sports Enterprises, secured a deal with the Gunners board of Directors to take majority control of the side.
He is not the first American to have earned ownership of a team through gradual acquirement of shares, and some have compared him to Manchester United's Glazer family which took over the northern giants in 2005.
Kroenke seems to have been a little more respected by the English supporters and has led a straight forward plan for Arsenal despite no silverware being brought to the Emirates since 2005.
With his partnership alongside Danny Fiszman, a man who commands enormous respect among Arsenal fans, coming to an end, the American stepped up his interest in the club. Fiszman's ill health has been the catalyst for the Kroenke takeover.
Fiszman's family have little interest in their father's club, and Fiszman has been unable to create a dynasty of his own. So he has sought to manage an orderly succession to a man he views as capable of continuing his own legacy of careful husbandry.
With Kroenke now firmly in the drivers seat after an estimated £500 million deal, here is a list of facts that might interest you about the Gunners new leading man in the shareholders meeting
........READ MORE AND START SLIDESHOW