Will The Boy Wonder Be Welcomed Back if Kenny Signed Him?
by Thomas Atzenhoffer on The Bleacher Report
April 20, 2011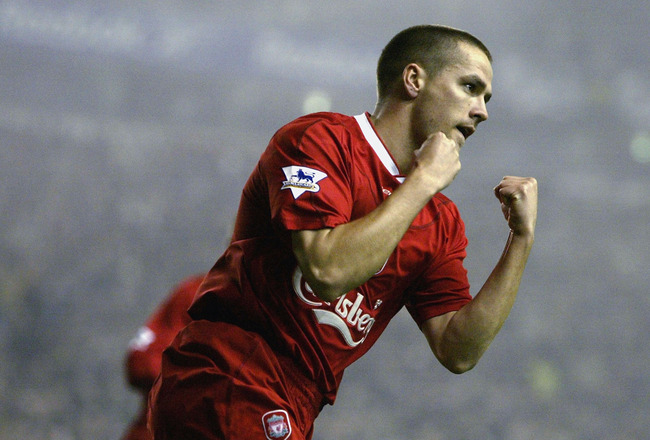 Alex Livesey/Getty Image
In what could be a rumor of outlandish proportions in the last few months of the season, there have been whispers that Kenny Dalglish could attempt to bring back a fallen hero of the Kop in hopes of letting him set things right before the end of his career. That fallen hero is former Liverpool wonder boy, Michael Owen.
A recent article contemplating the same question tempted me to dig a bit further and really ask myself and the rest of the Liverpool fans out there the same question. Would we welcome him back with open arms after his time at Manchester United?
To figure out how to even answer that you have to look at all the numbers, both past and present.
At 31, Owen would seem like a gamble, especially considering his injury problems since leaving Liverpool to join Real Madrid in 2004. During his spell with the Reds first team from 1997 till 2004 he scored 118 League goals in 216 appearances, not including his goals in domestic cup ties or European competition.
Though he had a nagging hamstring injury throughout that time he still averaged at least 30 appearances per season during that time. Despite the injury, when your strike rate in league games is a goal every 1.8 games, you are valuable.
His contribution was unparalleled when the 2000-01 Reds won a unique treble of the UEFA Cup, FA Cup and League Cup, and for his efforts, Owen won the Ballon d'Or.
News that probably shook the banks of the Mersey River was Owen's move to Real Madrid in 2004. It stunned the Liverpool fans, and he was dubbed a traitor in many ways but couldn't help but be revered for the contributions he had given the team.
The time he spent in Spain was not as he had imagined as he was reduced to primarily a sub and only started 13 games in La Liga. However, his 13 goals for Los Blancos in his total of 36 appearances remains the highest total scored when compared to minutes played in La Liga history.
After his jaunt in Spain he returned to England, this time for Newcastle United and after a great start to his time on Tyneside, he was sidelined for nearly 18 months with injury after injury following the 2006 World Cup for England.
Upon his return to fitness he was granted the captaincy for Newcastle and would lead the team in scoring before their relegation at the end of the 2009 season at which time he truly became almost, if not completely, hated by Liverpool fans.
The summer of 2009 saw Owen complete a move to Manchester United on a free transfer signing a two-year contract. That was the ultimate insult to his long time Liverpool fans as it was the one team that the Anfield faithful hate above all others. How could their once Kop Hero ever think of putting on a Red Devils jersey?
His time in Manchester hasn't been all roses and riches. He has spent a large portion of time injured there as well and only returned to the United bench on March 19th when they took on Bolton. With the club's addition of Javier Hernandez in the past summer, Owen is likely out of a job.
949839_crop_340x234 Ben Radford/Getty Images
So now comes the true question. With the needs of another striker to play backup to Andy Carroll, Luis Suarez and Dirk Kuyt, would Owen be a long shot, and would he even be welcomed back?
David N'Gog needs to go out on loan, and Daniel Pacheco is close but needs more time to develop as do the rest of the Youngsters. With that in mind, even if Owen wasn't always on the pitch, he has the kind of scoring mentality that the youth could learn from in training.
Also, if there is a manager that he would listen to it has to be Kenny Dalglish. His No. 10 jersey is likely to be available as Joe Cole will more than likely be on his way in the summer, and a free transfer for a former legend might not be too bad of an idea.
In all likelihood, it is 50/50 that he comes. The youth policy of the new owners under John W. Henry is not designed for sensational returns, but Owen might not be as bad of a gamble. His age gives him a few years left if the injuries can remain in check.
That time could be spent as a filler for the likes of Pacheco, Adam Morgan and Jesus Fernandez Saez "Suso," to come of age. All the while, he could maybe roll back the clock and reignite the Kop on a few occasions and bring back some found memories.
It would only be fitting for Owen to have a last shot at glory and retire as a Red with his name remembered for the right reasons. John W. Henry and Fenway Sports Group let Nomar Garciaparra retire a Red Sox, why not let Owen retire a Red and use the money saved from his free transfer to continue injecting youth into the core of the squad and on the wings?