Talisman Down
by Thomas Atzenhoffer on The Bleacher Report
April 8, 2011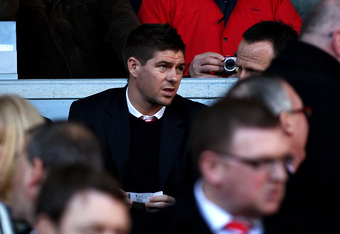 Clive Brunskill/Getty Images
In just a little over a month, the Reds have lost nearly half of their best starting 11 to injury.
This morning reports were made through Liverpool's official website, Liverpoolfc.tv, that team Captain Steven Gerrard, whom was expected to be back in the next week or so, has re-injured his groin in practice this morning and will be out for the rest of the season.
This comes at the worst time for the Reds. With so many already out and with the past game at West Brom seeing both Daniel Agger and Glen Johnson sidelined for the rest of the season as well.
This has made any hopes of winning out the last seven games an even more herculean task than was thought.
It was already set to be an uphill battle for the Reds to have any chance of clipping the fifth place spot out from under Tottenham Hotspur as they continue to sputter both in Europe and domestically. The loss to West Brom meant the Reds failed to make up two points in their desperate battle to achieve European Football next season
.......READ MORE ON THE BLEACHER REPORT