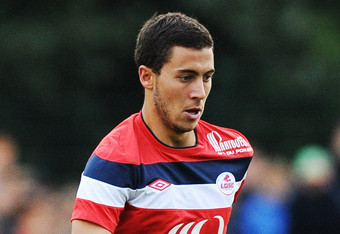 Valerio Pennicino/Getty Images
(
Bleacher Report
) If the Gunners could find a way to pull it off, the signature of Belgian starlet Eden Hazard would be one of the best moves they could make. His ability to cut through a defense as well as pass around one makes him an ultimate forward.
The Arsenal target scored two goals this weekend as he looks up and ready for the clubs opening round of the UEFA Champions League that kicks off this week. He will be an influential part for their possible success and will need to continue to be on the top of his game.
However, if not in January, Hazard could be a strongly chased target over the summer with Arsene Wenger eager to find a player that can take the place of Andrei Arshavin who has at times acted like he wanted out.
So far his performances for current side Lille have helped to show that the defending French Champions are still strong despite losing Gervinho to Arsenal already.
At only 20 years old Hazard is in the age bracket that Arsene Wenger like to buy in. The recent signatures of multiple players over 21 was one of them most aggressive offensive gambles that Arsene Wenger has taken in a long time, but it should pay off.
For once the Frenchman has purchased players that are experienced and they are the kinds of players that are versatile and interchangeable. Their experience and advice could go a long way to assisting a young incoming player like Hazard if Wenger can get him in the summer.
Earlier in the summer Hazard was rated as £26 million, but giving his recent continued high octane form that price could raise to £30 million plus by next summer.
You can follow me on Twitter
@thedailyatz
and
Facebook
or visit my personal
WebSite