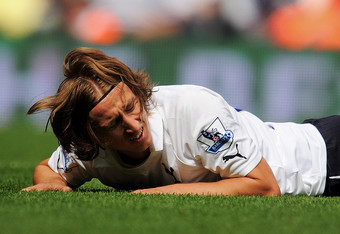 Michael Regan/Getty Images
(
Bleacher Report
) Chelsea have been chasing Luka Modric all summer, but events this weekend could have finally brought the deal to a true turning point.
Harry Redknapp has held out and protracted the possible move for almost two months, primarily believed to be in order to raise the price that there rival Londoners will pay for the Croatian International.
Last weekend Tottenham Hotspur fell to a 3-0 defeat at the Hands of Manchester United at Old Trafford, but that was not the worst of it. Sunday afternoon saw Manchester City come to White Hart Lane for Spurs' home opener, but what the fans witnessed was brutal.
The Lillywhites faithful witness Edin Dzeko and his assistant Sergio Aguero completely run riot in the 5-1 destruction of their beloved Spurs. Dzeko scored four to take his tally for the season to six in three games, and Aguero is now on three for the year.
This humiliating defeat could finally force the hand of Harry Redknapp to allow his prized midfield play maker move across town to Chelsea. With a cool price on offer expected to be in the range of £40 million this go around Redknapp would be a fool not to take it as he needs funds for injection as fast as possible.
You can follow me on Twitter
@thedailyatz
and
Facebook
or visit my personal
WebSite