Nando isn't Making the Grade as Luiz takes Center Stage for the Blues
by Rhydon Atzenhoffer
March 21, 2011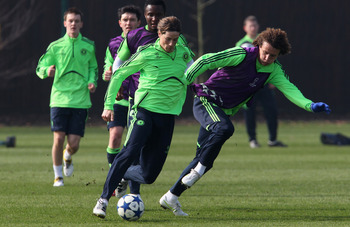 Clive Rose/Getty Images
Chelsea broke the English transfer window record by paying 50 million pounds to Liverpool for the services of Fernando Torres on the final day of the January transfer window. In the shadow of the Spanish international marksman was the 21-million-pound signing of David Luiz from Portuguese club Benfica.
Torres stole the spotlight with controversy and criticism, as Liverpool fans burned his kit on Sky Sports and fans protested outside of Melwood for the club having sold a player that the fans had welcomed into their hearts deeper than many others in the last few years.
It was a feeling of betrayal that was soon forgotten, as Torres made his debut against his former club and failed to live up to any of the expectations. As of late he is still failing to live up to the hype or his price tag. However, his fellow final-day arrival has eclipsed him in more ways than one and is quickly making people wonder not only if Torres was worth the money, but he might not even survive the summer at this rate.
Luiz is quickly becoming a fan favorite and is making the arrival of Torres seem like it wasn't what was needed. With that in mind, here is a glimpse of what he is doing that is displacing Torres as the Blues' best signing of the January window
.......READ MORE AND START THE SLIDESHOW ON THE BLEACHER REPORT