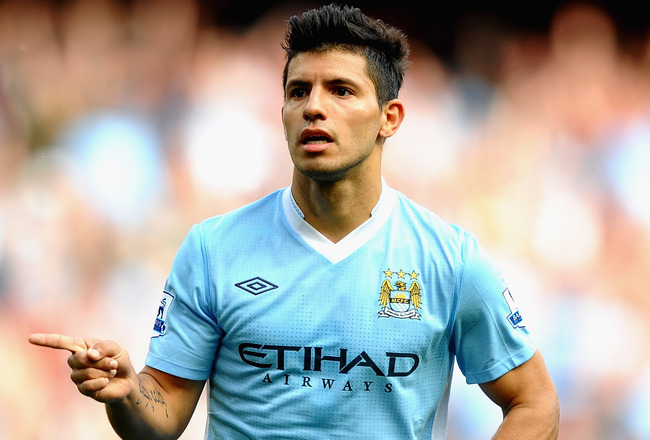 Laurence Griffiths/Getty Images
(
Bleacher Report
) Sergio Aquero was all that Manchester City needed to take away a 3-0 victory from their home match against Wigan Athletic. In only his fourth game in the English Premier League, the Argentine striker scored his first English Premier League hat trick.
His three strikes have him now sitting on six goals this season, which ties him with his teammate Edin Dzeko in second place on the EPL scoring charts. The two Manchester City strikers are second only to Manchester United's Wayne Rooney, who has already banged in eight goals this season thanks to two hat tricks.
Carlos Tevez and James Milner both got starts over Dzeko and Samir Nasri as both were not up to full fitness after international duty over the past week.
Wigan Athletic had a great opening month of August, seeing themselves on five points already, but Manchester City would prove to be their toughest test of the season so far.
Aquero started his game brightly and was involved with an early move that saw a great run from Gael Clichy be picked out by the Argentine from midfield. Clichy continued on and the end result would eventually be an Adam Johnson shot that went high over the bar.
The Argentine continued to move and create space as his club continued to loom over Wigan's goal in the opening minutes. He would break the deadlock in the 13th minute.
David Silva was the initial architect after robbing the ball back from Wigan and turning a counter attack. Carlos Tevez relived Silva and would play it back to him before the Spaniard passed to Aguero in the box. The lone striker tucked it into the far post corner out of the reach of Wigan keeper Ali Al Habsi.
Tevez soon had the chance to extend it to a 2-0 lead, but his effort was perhaps the poorest I have seen in a long time. Perhaps Aguero should have been allowed to blast it home.
City cruised the rest of the first half with attack after attack, but they failed to go further up. Aguero had a lofted shot go just wide after some great pass-and-move plays with Clichy and Joleon Lescott.
Aguero was part of another great move when he laid off a ball to Tevev that saw him play a through ball to Micah Richards that should have been the second goal of the match, but the defender chipped it into the cross bar.
Another near miss from the top of the box would go just wide after a quick forward attack between the striker, and Silva saw him have a wide open shot at the top of the box, but again he was denied wide right.
As the half came to close, it was all Citizens, and Aguero looked poised and up for another goal. It would only be a matter of time.
The second half started with Wigan getting the first chance with Hugo Rodellega getting a shot off at Joe Hart, but it was an effort poorly placed.
Carlos Tevez would make way for Samir Nasri and the game immediately picked up for the Citizens with the additional creativity and energy flowing at the top of the midfield.
It would only take two minutes for a well-executed move between Nasri, Silva and Yaya Toure to allow the Frenchman to poke through a pass to Aguero, which the Argentine buried for his second goal of the game as the crowd went crazy at Etihad Stadium.
Nasri, who had picked up three assists in his first game for the Sky Blues two weeks ago against Tottenham, picked right up where he left off, providing another to Aguero at the 63rd minute.
Only six minutes later, a brilliant trick skill move allowed Silva to break through the midfield and pass the ball up to a wide open Aguero. The Argentine had only Al Habsi to beat in a one-on-one situation. He did with a calm and cool style, placing the ball in the right corner of the net.
The rest of the game was Manchester just putting the damper on Wigan as Sergio Aguero's hat trick was one of the best moments of the weekend.
He scored all of his goals with a finishing touch that was utterly sublime. He continues to only look better this season.
After only a handful of appearances, the 23-year-old former Atletico Madrid keeper is looking as if he was made for the Premier League.
However, you can not give him all the credit, because it has been the masterclass work of his midfield partners, David Silva and now Samir Nasri, that have seen him be able to exploit his chances in the league. Had he gone to a team with less talented players, he may not have had the support he needed to have such a great start.
Earlier this month, I posed the question of whether Aguero could make the same type of impact for City after coming over from Atletico Madrid as Fernando Torres did for Liverpool in his first season when he scored 33 goals for the Reds. You can read that article here.
So far he is on pace for much more if he keeps it up. His current rate it 1.6 goals per game after the first four league fixtures. If he were to remain uninjured and start all remaining 34 league fixtures while maintaining that form, he would score approximately 57 total goals.
While that is highly unlikely, he is well on his way to having the chance to score 33 or more goals for the Citizens throughout the season.
Based on a one-to-10 scale for ranking the Performance of Augero on Saturday, he by all means was a 10 for his new club.
You can follow me on Twitter
@thedailyatz
and
Facebook
or visit my personal
WebSite