The Reds look to Enlist new faces at the Back to Help Move the Club Forward.
by Rhydon Atzenhoffer on the Bleacher Report
March 23, 2011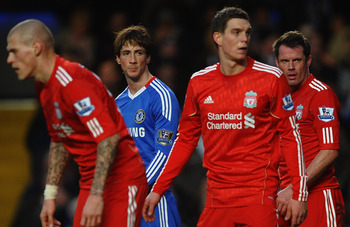 Laurence Griffiths/Getty Images
It has been no secret this season that Liverpool have been in desperate need of a quality left back. Roy Hodgson's purchase of Paul Konchesky was quite simply never going to live up to life on Merseyside. In addition, he allowed Emiliano Insua to leave the club on loan when he was clearly a more promising prospect as to warrant the purchase of another aging defender.
Fabio Aurelio, while providing good quality, attacking presence with his crosses and excellent free kick ability, is far to injury prone to be relied upon for the years to come. He has been a great steward to the club, but his time is being cut short because his body is letting his natural talent down.
Rumors have flown from all corners of the media since January about who Liverpool should be or are possibly courting to come in on the left-hand side of the defense.
From Goal.com to the Guardian, to Metro, the speculation continues to increase as only eight games remain for the Reds and the Summer transfer window beckons to the fans and club.
Vice captain, Jamie Carragher, is starting to get up in age, and it will be important for the team to have an additional center back to look to aside from Daniel Agger and Martin Skrtel.
Sotirios Kyrgiakos has shown his ability to deputize when needed but doesn't seem to posses the skill to be more than a fringe player at the back for the Reds.
Youngsters Daniel Ayala and Danny Wilson have shown promise, but both are still too raw of prospects to really be considered as ready to step into a more permanent role.
Wilson has done decently in his games under Dalglish, and Ayala had some impressive outings under Rafael Benitez and looks to be one of the Spaniard's favored young defenders to make something of himself at the club.
With all the rumors swirling around, it seemed a good idea to take a look at 10 of the most talked about defenders that have cropped up in Liverpool transfer gossip
.......READ MORE AND START THE SLIDESHOW ON THE BLEACHER REPORT