Three Palermo Starlets shoulder the Rise of the Aquile.
by Rhydon Atzenhoffer
March 17, 2011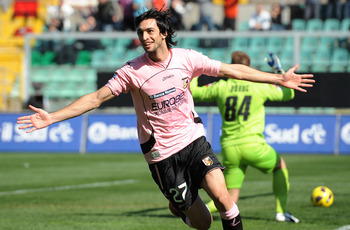 Tullio M. Puglia/Getty Images
Palermo finished fifth last season to tie their highest table position since achieving promotion to Serie A in 2004. The Aquile (Eagles) have been in fine form this season, aside from a recent five game slide.
Their last five games have included four losses where they were held scoreless, and the team has not registered a goal since their 2-4 loss to Fiorentina back on February 13th. Over this same time period, Palermo has allowed 13 goals against, and has seen a dramatic slide in their table position, now knocked down to 10th. In all, they dropped 15 potential points, vital games lost that could have had them sitting in fourth place had they turned them into victories, and built upon their sold defeat of Juventus on February 2nd.
Nonetheless, the young midfield including three rising stars ages 21 and 23 has been the driving force of the Sicilian club all season. The future of the club looks bright if they could hold onto them all, but the summer transfer window looms and could see at least one of them leave
...........READ MORE AND START SLIDESHOW