All the Results from Liverpool's International Stars
by Thomas Atzenhoffer on The Bleacher Report
March 30, 2011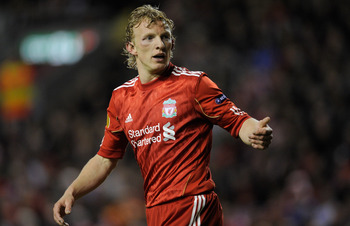 Michael Regan/Getty Images
As the International break came to a close yesterday, the Reds who have been away with their national teams will be returning to Melwood.
As Liverpool prepare for their final eight game run-in, starting with Saturday's clash against West Bromwich Albion under former boss Roy Hogdson, they have been lucky not to see any more players join the ranks of the injured while away.
With the large majority of the Spanish contingent, aside from Pepe Reina who was not called in for his national side this break, having moved on in the last two seasons with Xabi Alonso, Alvaro Arbeloa and Fernando Torres all having left the side, the Reds see most of their players scattered a little more about these days when it comes to international breaks.
England now holds the majority of Liverpool's international players in the clubs home national side.
Dirk Kuyt continues to be on form as he was a difference maker for the Netherlands. The other Liverpool players visiting with their homeland sides also put in great performances during the time spent with their national teams, and here is a look at what transpired throughout friendly matches and 2012 European Championship Qualifiers
......READ MORE AND START THE SLIDESHOW