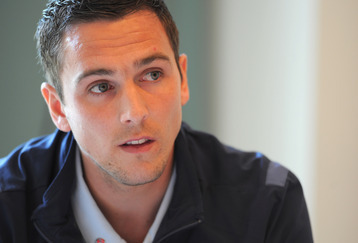 Michael Regan/Getty Images
(
Bleacher Report
)
Give Me Football
confirmed this morning that once again Stewart Downing is in demand at Liverpool. It has been no secret that Kenny Dalglish is a huge admirer of the former Middlesborough academy graduate and he is keen to add the England International to his squad.
At 26 many would believe that he is out of the range of the owners as far as youth policy but considering the hotly linked Ashley Young is also only days from being 26-years of age it doesn't carry much weight.
Downing offers much of the same as Young for the Reds but at a better price. With trophies and success, and eventual Champion's League action on the want list for the winger, the statement that Liverpool has been making under Fenway Sports Group is that they are building with huge plans for success.
His statements this week to the press prove he is ready to step up his career with a move if the right offer comes:
"You want to finish with medals at the end of it so, if it's a step up with Villa or with someone else, I'm ready for it."
"You watch teams in the Champions League and it makes you wish you were there."
"You sit at home and watch it, hear the music come on, you see the teams and you think 'that's where you want to be."
The addition of Downing would also give the Reds another English International player as the ranks already include Andy Carroll, Steven Gerrard, Glen Johnson, and U21's Jordan Henderson, Martin Kenny and more.
With the talent pool growing in a time where home grown players are going to become a must, it is no doubt that the new owners are doing things the right way with Liverpool and Downing would be a much welcomed addition to the wide areas.
You can follow me on Twitter
@thedailyatz
and
Facebook
or visit my personal
WebSite