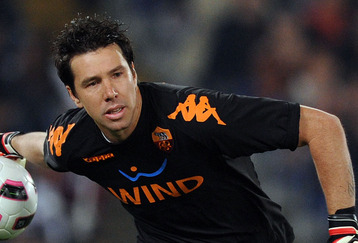 Giuseppe Bellini/Getty Images
(
Bleacher Report
) After failing to secure Brad Friedel last week with the American accepting a move to Tottenham over Liverpool, Kenny Dalglish is back in the market searching for a new full-time backup to Pepe Reina.
It looks like he has found the man he wants in Roma's Brazilian keeper
Alexander Doni
. After loosing his permanent place in the Roma line-up last season he is looking for an out from the Eternal City, and Liverpool could be just that.
Brad Jones whom was signed last season by Roy Hodgson to be the back-up spent more time in the reserves and on-loan than in that role and he is available for transfer and could be a possible make weight in the opposite direction or could be sold outright.
Doni at 31-years of age is still in his good days and would make an excellent experienced back-up as opposed to Jones whom has not seen competition at the high levels as Doni.
You can follow me on Twitter
@thedailyatz
and
Facebook
or visit my personal
WebSite