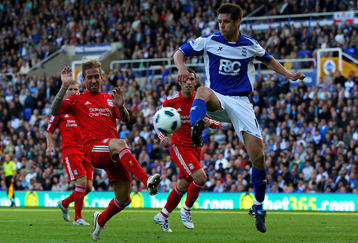 Alex Livesey/Getty Images
(
Bleacher Report
) 24-Year old Birmingham City defender Scott Dann is now a main defensive target for the Reds as Phil Jones is now on his way to Manchester United. Dann is Liverpool born and bred and is a professed life long Reds fan. That makes the situation almost ideal for the young man to make a move to Anfield after his club was relegated on the last day of the Premier League season.
His value is believed to be in the £10million range and his attacking mentality that has seen him bag 13 goals during his career between several teams also plays into Kenny Dalglish's new system.
The
Daily Mirror
reported this morning that Dann was indeed under pursuit from the Reds as the next in line centerback option.
You can follow me on Twitter
@thedailyatz
and
Facebook
or visit my personal
WebSite