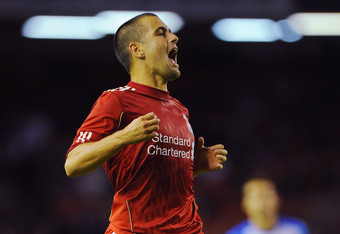 Clive Mason/Getty Images
(
Bleacher Report
) Joe Cole has endured a rough time at Anfield. From a red card on his debut to spending the season on the fringe with just not enough quality or luck to break into the side, he has simply had enough.
Earlier this week Kenny Dalglish said that he would not stand in the player's way of making a move in order to have first team football on a regular basis and the manager looks to have kept his word.
Cole was originally thought to be making a move to Tottenham after those reports were circulated much of late April and May. However, Harry Redknapps admiration's were only in voice and not purse.
It then looked as though a loan move to Queens Park Rangers would pan out, but alas that one failed as well.
But now it looks as though Cole finally has his wish as defending French Ligue 1 Champions Lille have just agreed to take the former Chelsea sensation to France.
He will most likely be on the opposite wing to Eden Hazard in the position once occupied by now Arsenal winger and attacker Gervinho.
A move to the French or Italian League was just what Joe Cole truly needed as his pace and physicality have gone away to much for the English league, but he could be a massive star in France.
You can follow me on Twitter
@thedailyatz
and
Facebook
or visit my personal
WebSite