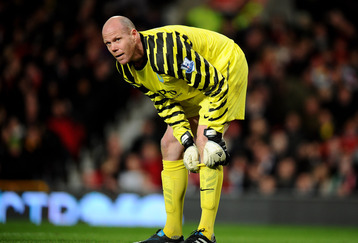 Clive Mason/Getty Images
(Bleacher Report) 39-year old veteran shot stopper Brad Friedel appears to be set for a possible Anfield return. Friedel made 25 appearances for the Reds between 1997-2000 before moving to Ewood Park and racking up 287 appearances for Blackburn Rovers, and eventually moving to Aston Villa in 2008 to make another 113 EPL appearances.
Sources for the Independent claim that the contract on offer is rumored to be a two-year deal with a coaching job attached.
The American would be Pepe Reina's backup and would likely not see a starting role during his time at Anfield. That fact will prompt him to make a careful consideration between Liverpool and his other possible suitors in Tottenham Hotspur and West Brom.
You can follow me on Twitter
@thedailyatz
and
Facebook
or visit my personal
WebSite