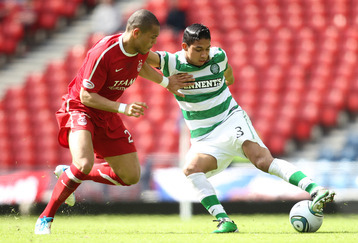 Ian Macnicol/Getty Images
(Bleacher Report) Since his arrival last summer, Honduran International Emilio Izaquirre has made quite an impression on Scottish football as a Hoop, and on the world of football in general.
The left-back was highly linked with Liverpool during the January transfer window, and he again is in the press as one of the best choices for the Reds to fill the boots of chronically injured Fabio Aurelio, and out classed outcast Paul Konchesky.
With so much back and forth, it appears that Izaquirre is content to allow his agent and manager to decide his future.
You can follow me on Twitter
@thedailyatz
and
Facebook
or visit my personal
WebSite