(Bleacher Report) In what has been a fabulous season of English football, it all comes down to the final weekend for a host of teams. Two teams battle for a guaranteed Champions League spot. Two teams battle for the only English UEFA Europa League spot from the standings. The action then gets more heated as five teams are mixed up in a final day desperate bid for survival as points and goal differentials are neck and neck.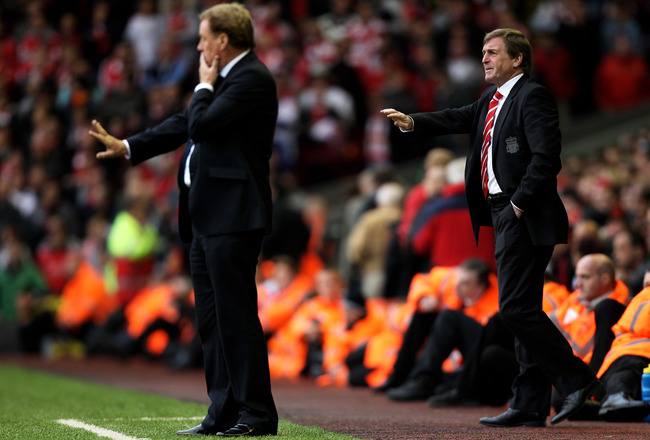 Michael Steele/Getty Images
With all that said, lets start with the battles at the top of the table and work down. Manchester City took the fight to Stoke City yet again on Tuesday in a rematch of this past weekends FA Cup Final, in which Manchester City lifted the cup thanks to a second half goal from Yaya Toure.
A three to nil bashing of the Britannia side saw the Blues push past Arsenal into third place, giving them a guaranteed Champions League spot until at least Saturday. The Gunners take on eighth placed Fulham at Craven Cottage. If the cottagers have anything to do with it, they want to end their season on a high note. Despite their 5-2 bashing from Liverpool last Monday, the Cottage has been a stalwart for them with a record of eight wins, six draws and only four losses throughout the campaign.
Manchester City also are away as they travel to the Reebok to face off against a hard fighting Bolton Wanderers, who have had a great season despite dropping to tenth in the last few weeks due to a dip in form. If the Blues win they force the Gunners to fight through qualifying to make the Champions League, while Roberto Mancini's men have a red carpet to the group stages.
The next big battle in the top half of the table is for the one and only UEFA Europa League spot in this years English Premier League table, rewarded to fifth place. Liverpool had the chance to solidify their claim to it at the weekend, but a 0-2 loss to Tottenham at home saw them be forced into a must win game against Aston Villa at Villa park. If Spurs loose this weekend, and the Reds at the least draw Anfield they will indeed enjoy European nights. If both teams loose or Tottenham win the Reds will face an all domestic campaign for the first time in a long time.
Tottenham, however will have their hands full as their fight for survival to achieve a place in Europe will collide head on with Birmingham City as they fight to keep their spot in the top flight. Spurs need a win, but honestly Birmingham City need one just as badly or worse. The Blues may have won the Carling Cup but their League campaign has been in shambles as they sit in 17th place only above Blackpool and Wigan by one and two goals difference.
Birmingham face a must win or must score at least a few goals in the face of Blackpool and Wigan both loosing. Wigan Athletic face off against a battered Stoke City club that will either be an easy win or will be out for blood in their last match of the season. If the Latics pull off a victory they have to score at least three goals and hope that Blackpool and Birmingham both go down quietly.
Blackpool must travel to Old Trafford on the final day to face this season EPL Champions on their home turf. Manchester United took the all time English lead by the tail as their 19th League Championship takes them one above Liverpool. The Seasiders pushed the Champions to the brink earlier in the year, and it will take that much and more from Charlie Adam and DJ Campbell is the Tangerines wish to stay up.
The last two teams fighting for their guaranteed place in next season's top flight are Wolverhampton Wanderers and Blackburn Rovers. It would not have been any more perfect if it had been planned out this way as these two face each other in what will truly be an exciting match at Molineux Stadium.
Mick McCarthy has orchestrated his masterful brilliance once again to help bring Wolves nearly out of harms way, but Rovers have a chance to rue the day if they upset the home team. However, a home victory and loss for Blackburn could equally be as brutal as the two teams sit equal on 40 points just inches from dropping to the Championship next season.
The only two matches not covered are Everton vs Chelsea and West Ham United vs Sunderland. Both Blues will be playing for pride as neither can really move up and would both like to finish strong. On the other hand West Ham are done in the Premier League for next season, and one last home game in the top flight this year at Upton Park could be another showing of player pride as they will hope to send Steve Bruce and the Black Cats back up north with their tails between their legs as a reminder of what they could be seeing again in 2012-13 if the Hammers go up or the Cats fall down next season.
Whomever is your team it is sure to be a weekend of great action as the final weekend draws nearer. I look forward to the summer and many more transfer sagas to follow before we kick off the 2011-12 season in August.
You can follow me on Twitter
@thedailyatz
and
Facebook
or visit my personal
WebSite