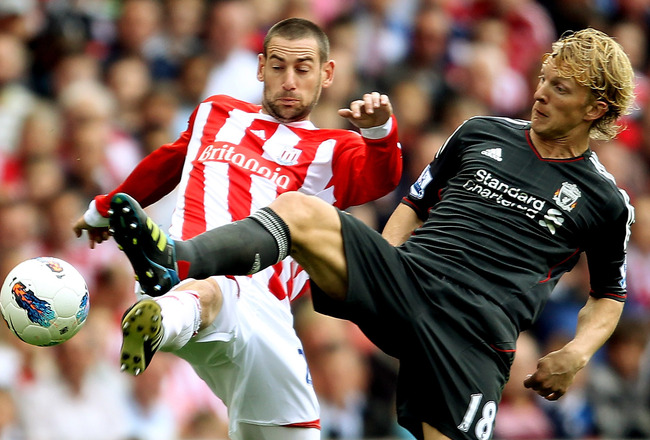 Scott Heavey/Getty Images
(
Bleacher Report
) Liverpool were dealt a harsh blow when they failed to convert 24 shots on goal and a dominating 73 percent possession.
Jamie Carragher was caught off balance and out of position, which resulted in Jonathan Walters receiving a penalty that he converted. It could not have come at a worse time for the Reds, as they were dominating the game and had Stoke City on their back foot.
However, nothing proved that Liverpool were not going to get anything from the match more than when Jordan Henderson took three straight shots that got blocked back in his face. He then laid it off to Charlie Adam who suffered the same fate for two shots.
All Stewart Downing could do was shake his head as the frustration mounted for a team that is clearly lacking the cohesion that Steven Gerrard can provide in the center of midfield.
No matter what the Reds did they just could not get a shot to go right. The day ended in utter frustration as even Luis Suarez could not even convert a rebound from a wide on shot.
Hard luck was the result on Saturday and the Reds will hope for a better weekend when they host Tottenham at home next week.
With several hot stories around the wire the past few days and some continued transfer speculation still swirling about lets get up to date on the Reds.
You can follow me on Twitter
@thedailyatz
and
Facebook
or visit my personal
WebSite