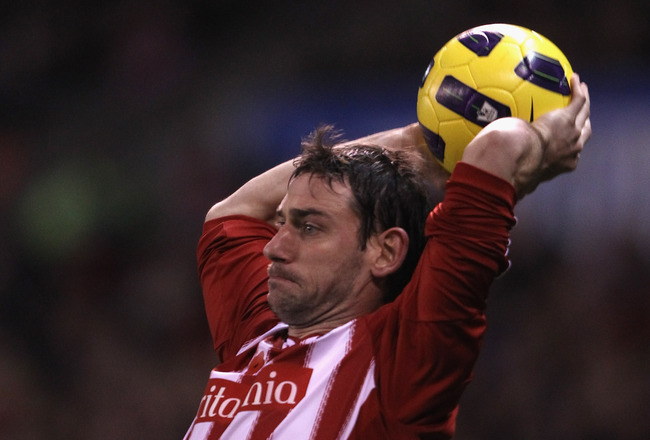 Clive Brunskill/Getty Images
(
Bleacher Report
) Rory Delap has been a thorn in the side of multiple EPL clubs over the past seasons. It is well documented how much Arsene Wenger despises the player's long throw ability.
However, Liverpool have the fortunate advantage of making a trip to the Britannia Stadium this weekend without having to come up against the Potters' not-so-secret weapon.
The signing of Peter Crouch on deadline day is yet another move that looks to highlight the skill set provided by Rory Delap and also Jermaine Pennant.
Pairing up the towering Crouch with Kenwyne Jones, who is also a big physical striker up front, gives Tony Pulis' side a pair of targets that both Delap and Pennant can aim for all game long.
But that strategy will have to be adjusted on Saturday. Without Delap in the picture the Reds will be able to work on shutting down the only over main weapon of supply in Pennant.
Jamie Carragher should be able to advise his fellow defenders well with respect to helping them snuff out Pennant as he and several of the remaining Reds from Rafael Benitez's days remember playing and training alongside the Stoke winger in his Liverpool days.
If Pennant is closed down from the picture by at least 50 percent that takes out a huge amount of chances created by both himself and all of Delap's.
The inability to turn long throws into practically corners or free kicks against the Reds will be a blow to the attacking ideology that has ruled at the Britannia for the last several season.
It is without a doubt that I can say Stoke City are stronger now this season than they have been in the past. They have added some creativity with Wilson Palacios in the midfield and increased their attacking ability with the additions of both Crouch and Cameron Jerome.
Given that Stoke will be formidable none the less, but their system will still need to be retooled, and the new signings might not have developed their on-field relationships with the new teammates just yet.
Liverpool will be looking to exploit this by doing one of two things with their lineup.
One option has them line up in a 4-1-2-3 and using Lucas and the holding link between an all out assault led by Stewart Downing, Luis Suarez and Craig Bellamy.
The second option calls to stack the midfield with a 4-5-1 which is the most likely that could see this possible lineup:
Pepe Reina; John Flanagan, Jamie Carragher, Daniel Agger, Jose Enrique; Lucas Leiva, Jay Spearing; Dirk Kuyt, Jordan Henderson, Stewart Downing; Luis Suarez.
Part of me says that both Craig Bellamy and Sebastian Coates will have some part to play before the day is done.
The Reds have one of the best chances of any team to go into the Britannia and take away a victory over a team that is tough as they come at home.
Without one of their main attacking weapons and several new faces most likely to debut this weekend, Stoke City are more vulnerable than they have been so far this season.
Liverpool have the players and the ability to get the job done this weekend, and I see them taking a 2-1 victory in a hard but good match against a physically tough opponent.
You can follow me on Twitter
@thedailyatz
and
Facebook
or visit my personal
WebSite