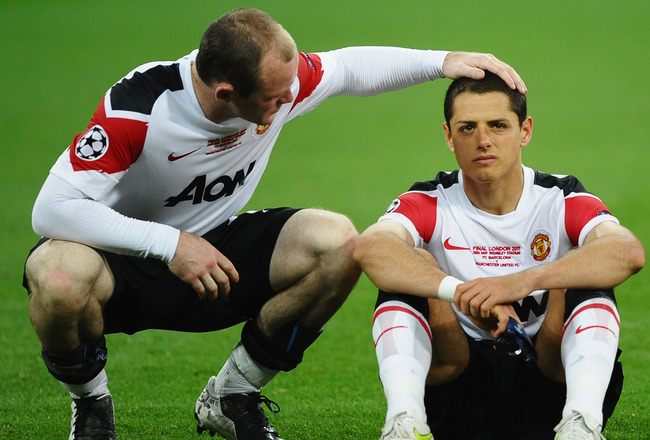 Laurence Griffiths/Getty Images
(
Bleacher Report
) Last season saw the emergence of what looked like it had the makings of an incredible partnership. Wayne Rooney had made the best of both Carlos Tevez and Dimitar Berbatov over the last few seasons, but he is yet to have enjoyed a long term striking partnership.
The arrival of Javier, "Chicharito," Hernandez last season was seen as a move that was up in the air for Sir Alex Ferguson just as many of his signings can be at times. However, the Mexican international proved all the critics wrong scoring 13 goals in his first season at United.
While Dimitar Berbatov was the 20 goal-scoring EPL Golden Boot Winner, Rooney and Hernandez looked to be forming a deadly partnership when the Mexican played in the place of the Bulgarian.
They ended last season partnering in the Red Devils 3-1 loss to Barcelona in the Champions League final on English soil. In what was a disappointing match you could clearly see that Rooney was making a statement as he had one of the best games of the season in their loss, and Hernandez was lively throughout, but Barcelona were just to strong.
Preseason saw Rooney start building on his form from last season while Hernandez suffered a head injury and was forced to wait over a month to make his Premier League debut for this season when he came on as a substitute against Tottenham three weeks ago.
Just before the match started against Bolton you could see Hernandez on his knees at the half line looking to be praying before the match and for some reason you could just feel that this match could be something special for the Red Devils.
As he lined up alongside Rooney in their first start of the season together they got the match underway and it was immediately United on the attack as a victory for Manchester City earlier in the day meant it was a must win to stay the top of the table.
Four minutes and forty seconds into the match Hernandez got on the score sheet to give United the early lead as an Injured Tom Cleverly was limping to the sidelines needing a sub. What better way to stop the run of play than with a go ahead goal. It was a great ball played in from Nani and Hernandez only had to direct it into the back of the net.
Rooney played some great defense as he assisted his new keeper David de Gea by clearing a Chris Eagles shot off the line in an effort from Bolton to pull the opening goal back only minutes after they went behind.
New signing Phil Jones continued to show his value as he has all season by setting Rooney up for two goals in a five minute span.
The first at the 20th minute saw Jones playing a great cross that Rooney tucked home for his first of the day.
His second on the score sheet came at the 25th minute when Jones burst through the midfield and defense of Bolton Wanderers to play the ball off for Rooney to notch home his seventh goal of the season.
Two minutes later Hernandez looked to have answered his partner when he knocked home another Nani cross in the 27th minute, but it was hauled back due to being called offside.
United were cutting Gary Cahill's defense to shreds and it looked set to be a United rout. Hernandez and Rooney both continued to look lively throughout the first half.
With the second half set to resume, the Red Devils were already sitting 3-0 up on their opponents but looked to be hungry for more as they continue to raise their goal differential this season. The announcers claimed just before the second half kickoff that so far United have made their most prolific goal scoring start to a season since 1885.
Kevin Davies and Ivan Klasnic got the ball rolling for the second half but United were quick to get the ball back and got straight to work once more as they pressed for another goal after an opening five minutes with Bolton breathing down their necks looking to get one back.
Anderson made a great free kick effort on the 54th minutes but missed just long and Bolton once again pushed hard at the United goal with Martin Petrov shooting high over the bar.
David de Gea looked to emulate Liverpool's Pepe Reina with a long ball up to Anderson and Hernandez and the Mexican nearly had another with Jussi Jaaskelainen out of pocket, but he shot it directly into Nigel Reo-Coker.
However, he would finally get his second on the night on the 58th minute when a ball fell to him in the box and he hammered it home to send United up 4-0 with them continuing to be ruthless around the net.
Reo-Cokler nearly got one back for Bolton a minute later as it got over de Gea but only dipped enough to bang off the cross bar and preserve the clean sheet for United.
Ryan Giggs and Chris Smalling would come on just minutes later to give the defense and the midfield some extra creativity and life going into the final half an hour of the match.
It would be Giggs that started the move for the next United goal as he knocked a long ball forward to Nani on the right hand side and he crossed to Rooney who completed a hat trick with a blasted shot from outside the top of the box past Jaaskelainen to make it 5-0 Untied.
The hat-trick would be Rooney's seventh of his career and the second one against Bolton at the Reebok after he completed his first Premier League hat trick of his career against them on October 28, 2006.
A minutes later Giggs again was involved as he pushed a long through ball up to Rooney and his cross to Hernandez was just missed with the Mexican missing a chance for a hat trick alongside Rooney's.
Bolton never gave up as they continued to push for a consolation goal that would never come with Martin Petrov again being at the heart of their attacking efforts.
Hernandez missed his second chance to come level with Rooney for a hat trick on the 87th minute when Nani played him in for a great chance, but in an amazingly unselfish move he crossed to Anderson who was a step behind and could not take advantage of the wide open net.
The game ended 5-0 and the strike partnership of Rooney and Hernandez looks to be in full and complete health.
Hernandez was a menace all day as he constantly found ways to create space for this teammates and finished clinically on both of his goals.
Rooney continues to be on fire as he has eight league goals to his name after a second straight hat trick in the league after having completed one against Arsenal in their last league victory. His clearance off the goal line in the first half continues to prove that he is developing into a complete forward as he is important at all parts of the pitch.
The two attackers will open their UEFA Champions League campaign this week when they face off against Sporting Lisbon from Portugal, and they will be looking to be on all cylinders to get the Red Devils off the mark on the continent.
Their biggest goal will be to return to the Champions League final and end this new campaign on the opposite end of the way they ended last season. With the way their club is playing at the moment it is possible that Barcelona could not touch them right now.
It will be interesting to see how their form progresses for the rest of the season as United usually peak about November. If this is only the Red Devils at 75 percent then lord help anyone that stands in their way come mid season.
You can follow me on Twitter
@thedailyatz
and
Facebook
or visit my personal
WebSite