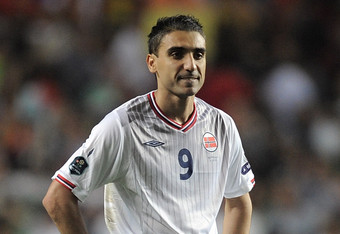 Denis Doyle/Getty Images
(
Bleacher Report
) Despite the signing of Park Chu-Young Arsene Wenger could be in the market for another striking option come January. The daunting task of playing four tournaments at once between the Premier League, FA Cup, Carling Cup and UEFA Chsmpion's League can take its toll on a team that is not supplied with depth.
Arsenal shipped of their most seasoned front man aside from Robin Van Persie to Sunderland on the last day of the transfer window. Danish out of favor forward Nicklas Bendtner has claimed he will not be returning and with Marouane Chamakh seeming largely ineffective in the long run in the EPL Wenger could look elsewhere.
That leads to Wenger believed to be heading back into the Bundesliga talent poor for another additional striker to both Gervinho and Park Chu-Young. Hannover 96 forward Mohammed Abdellaoue has been lighting up the German league with three goals in his first four games.
The Norwegian could be a welcomed addition as the first team have not been able to produce the goods as they would like to this season. Another body to shift up and down on the depth chart would do Wenger good.
Wenger could be looking for ways to keep his team fresh and making another quality signing will only improved the buzz around the club.
As the Gunners continue to get used to the rebuilding stage, they will more than likely be dipping into the Transfer Market against his winter, and Abdellaoue could be on that list.
You can follow me on Twitter
@thedailyatz
and
Facebook
or visit my personal
WebSite