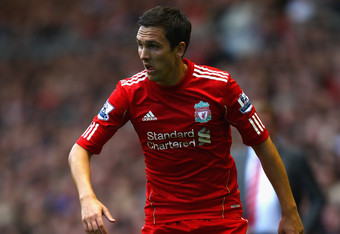 Clive Brunskill/Getty Images
(
Bleacher Report
) An official poll on Liverpool FC's website has Stewart Downing as the fans top choice for best new signing so far. The former Aston Villa man has been impressive in his opening four games for the Reds.
His play on the wings has shown just how much the Reds needed a genuine wide attacking in recent seasons as they have seen their play be much more open than the narrow play attacking style seen in the later days of Rafael Benitez.
Downing came over in a hail of controversy as he England international was deemed over priced and over rated, but so far he has proved most of his critics wrong with his play and he is beginning to grow into the offense really well.
Just below Downing in the poll is fellow new comer Jose Enrique. The Spaniard who signed from Newcastle United the day before he made his opening day debut against Sunderland was met with a great reception.
Charlie Adam are distant at only 14 and three percent of the votes. The two have both had flashed of brilliance, but Liverpool need excellence day in a day out in order to keep pushing for a Champion's League place next season.
You can follow me on Twitter
@thedailyatz
and
Facebook
or visit my personal
WebSite