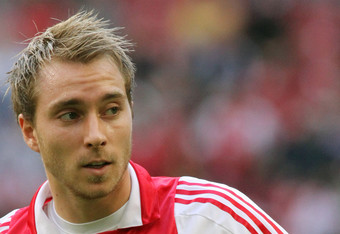 EuroFootball/Getty Images
(
Bleacher Report
) Christian Eriksen has been a reported Liverpool target since early in in the summer window. The 19 year old Denmark international has been quoted by Givemefootball.com has not likely to leave Ajax Amsterdam for another several seasons.
"With my style of play, there is no doubt that Spain would be ideal for me."

"But I'm still not transferring. My priority is to play football and at Ajax I play in the championship and I will play in the Champions League.

"It may take two or three years before I move to Spain. I'm in no hurry to go until I'm ready to go."
However, despite being aware of interest from Liverpool and also Manchester City the player seems more likely to head for Spain from his comments.
Over the next several seasons if he continues to progress as he has since joining Ajax in 2009, where he has made 70 appearances scoring 10 goals, he is likely to attract heavy interest and large transfer fees for his services.
With that in perspective it means his move away from the Dutch capital is only a matter of time and his destination is totally up in the air.
You can follow me on Twitter
@thedailyatz
and
Facebook
or visit my personal
WebSite