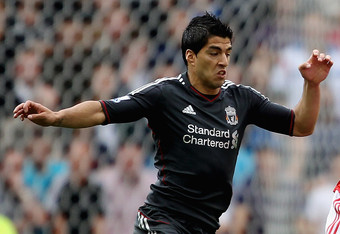 Scott Heavey/Getty Images
(
Bleacher Report
) Luis Suarez according to the Guardian a few days ago is the rumored target of a £35 million bid from Real Madrid expected to hit Liverpool FC's bank of the Mersey in January.
The Uruguayan has been a constant bother to any opposition and he is nothing short of tireless when it comes to chasing down every chance he has to be part of the game. His energy and desire are reminiscent of Dirk Kuyt when the Kop first fell in love with his never ending endurance.
Suarez appears one of those that would run himself into the ground for Liverpool FC and his captain Steven Gerrard has him picked as one of the future greats as he told his clubs official site in a sit down discussion of his teammate:
"He's got the appetite for the game to learn and get better.

"Hopefully he will go on here for a long time because he's certainly got a massive part to play at this club in the future - the history is there to be written."

"He's a very enthusiastic footballer and very intelligent. He's like a kid in the street and he can't wait to get out for training and games.

"Alongside Dirk of late, they've been like two Duracell bunnies. They just don't stop and for defenders that must be a nightmare, knowing when you control the ball those two will be chasing.

"It's fantastic to have him and hopefully he can continue his form until the end of the season. If he does, it will give us a much better chance of getting some silverware."
Although it is Energizer bunnies, Ill let the Reds captain off for the moment, Suarez is certainly of that category. He is as frustrated to miss a goal chance in the first minute as he is the ninetieth and it is that kind of attitude that can turn this club around in the right direction.
I can not see the owners allowing their best asset for future growth and success be prized away after only a year. It would be suicide for the owners as it would cripple their fan support as well as cup their goal scoring chances more than in half as Suarez is a good at creating chances as he is taking them.
Luis Suarez looks to be a Red for many years to come and Real Madrid will have to do their striker poaching somewhere else for the time being.
You can follow me on Twitter
@thedailyatz
and
Facebook
or visit my personal
WebSite