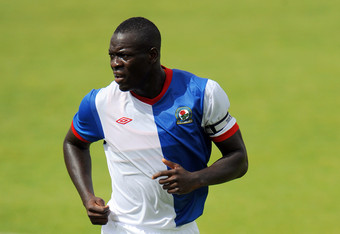 Clint Hughes/Getty Images
(
Bleacher Report
) Aside from Gary Cahill, Arsenal were also highly linked with the signature of Blackburn Rovers defender Christopher Samba this summer.
The Gunners could have used him in recent weeks as their defensive unit has been disappearing one at a time from either suspension or injuries.
Thomas Vermaelan looked to finally be up for another full season at the Emirates when he went down for a three month or more injury that will require minor surgery and time to heal. It was a rag tag defensive unit for the Gunners since Vermaelen's injury, and has seen Wenger's squad meet tough opponents that took full advantage of it.
Blackburn Rovers defender and possibly January Gunners target Samba may be a more affordable option to a target like Gary Cahill. Everton defender Phil Jagielka also was on the top of Arsene Wenger's charts but the price tag again was the issue for the Frenchman.
Arsenal was also interested in the signature of former Birmingham City turned Rover Scott Dann this summer. Dann's arrival could make it easier to sign Samba in the January window as he now has cover if he is sold.
The 27 year old defender would be most expected to take his leave from Blackburn in the next season or two if he is going to make a switch. At his age he is about to hit the prime years of his career and he would much rather be in contention to win silverware in the near future than languish in relegation battle.
You can follow me on Twitter
@thedailyatz
and
Facebook
or visit my personal
WebSite