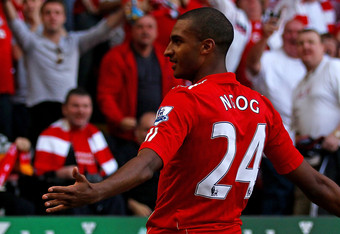 Clive Brunskill/Getty Images
(
Bleacher Report
) Recent Liverpool turned Bolton Wanderer striker David N'Gog has thrown his former club a thank you saying that his days at the club made him stronger.
The Rafael Benitez signing was a prime candidate to take up the front man spot under his former boss, but he was seen as surplus to Kenny Dalglish and the clubs new owners.
His £4 million move to Bolton signifies what most people already understood, that he needed a change of pace and scenery.
Comments quoted by both Givemefootball.com and Tribalfootball.com have stated the players appreciation for his time on Merseyside and has him claiming Fernando Torres as his inspiration:
"When you are at a club like Liverpool you have to accept it (being behind Torres),'' said Ngog.

"That made me stronger as well because you want to be close to the best and Fernando is one of the best.

"He is one of the best strikers in the world and when he was at Liverpool he was consistent in scoring a lot of goals.

"You learn about a lot from a player like this. It was a good experience and I will try to produce here and show what I am capable of.''
However, while I believe his move to play under Owen Coyle is a great one for all parties included, the part of Torres that Reds fans hope he is talking about it the defense frightening clinical finishing that Torres displayed in the height of his Reds days and not the side that saw him alienate the majority of his adoring fans on Merseyside.
N'Gog provided the Reds with great service in his time scoring 19 goals in 94 appearances, but he number of simply chances that he missed during his time could easily have tripled his goal haul.
Given what his new manager Coyle has done for both Jack Wilshere and Daniel Sturridge on loan should give N'Gog huge hopes for the amount of development he can achieve at the Reebok.
You can follow me on Twitter
@thedailyatz
and
Facebook
or visit my personal
WebSite