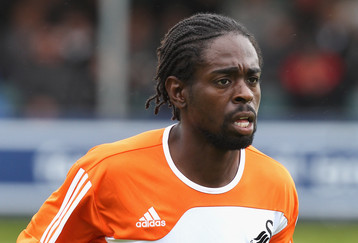 David Rogers/Getty Images
(
Bleacher Report
)English Premier League new boys Swansea City have been fighting a loosing battle to keep some of their players from being poached by other clubs. However, Darren Pratley has already moved away to Bolton.
Nathan Dyer could be the next out the door after the Swans secured Wayne Routledge from Newcastle United only days ago.
The arrival of Routledge could unsettle Dyer enough for him to push through a move to Merseyside if it indeed goes through as more than just a rumor.
Dyer made 48 total appearances for City last season and scored two goals and provided nine assists. The 23-year old is right in the target age range for Liverpool and he could be brought in as a new option for cover and allow even more possibility of Cole or Poulsen moving on.
With only 12 months left on his contract, the young British player could be on the move so as the Swans do not loose value in him, or loose him to a Bosman next summer.
You can follow me on Twitter
@thedailyatz
and
Facebook
or visit my personal
WebSite