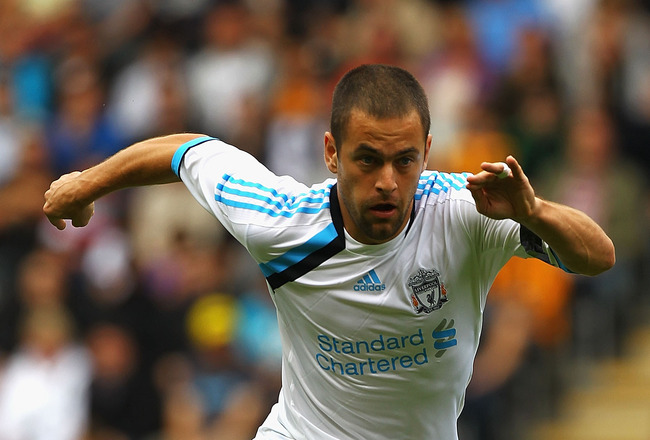 Matthew Lewis/Getty Images
(
Bleacher Report
)Joe Cole's plight at Liverpool is a rather sticky situation. He has had an up and down career that has truthfully been more down than good, and since he joined the Reds, it has been more of the same story.
His playing days started out at West Ham United in 1998, when he made his first appearances in league fixtures. Over the next four years, he would make 141 appearances for the London club, scoring 10 goals from the midfield.
As his stock was rising, he made the switch to Chelsea in 2003 a year before the arrival of Jose Mourinho and was considered at the time one of the brightest talents in all of English football. Little did he know that once he left West Ham, that would be the last time he has started over 30 games in the League.
He got his chance to push for a first team place in the 2004-05 season thanks to many injuries. His 50 appearances the year before had been split in the league with 18 starts and 17 substitution appearances, but Mourinho had no choice but to put faith in the then 21-year-old, and he delivered the best goal haul of his career in the English Premier League, with eight goals from 28 appearances. It would also be the first time the player tasted the EPL title.
That performance helped him to gain regular football for the 2005-06 season, when he would make 26 starts, scoring eight goals once again and providing four assists. His place on the PFA Team of the Year continued to push him to the fore front of the English talent scene and earned him a place on the 2006 English National Team that went to the World Cup.
However, it was a disaster for England from the word go, as they crashed out in the quarterfinals after a promising Group B winning performance and round of 16 victory ended in dismay on penalties. Cole managed a goal against Sweden in the Group stages, but would not score again in the tournament after his Man of the Match performance.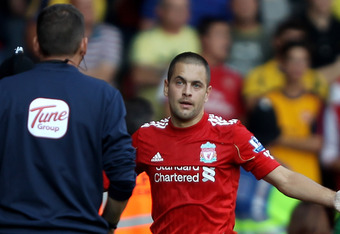 A Debut to Forget on August 15, 2010.
Clive Brunskill/Getty Images
The following season is when Cole hit the first bump in the road of his career. Two straight seasons of EPL titles and first team dominance for the midfielder came crashing down as he went down injured in Chelsea's preseason only a few weeks after returning from the World Cup. He would only make 24 total appearances that season due to his injury.
Once again, the following year in 2007-08, Cole made a remarkable recovery to take back his first team place and made 54 appearances with 10 goals over the course of the Campaign. He played a key part in both the Blues League and Champions League challenges. Unfortunately for him and his team they crashed to second best to Manchester United in both cases.
The next two season for Joe Cole became a blur of frustration, as he would only make 19 appearances in 2008-09 thanks to a knee ligament tear, and even with 39 appearances in 2009-10, he just was not his old self and was let go at the end of the season.
A once promising prospect seemed lost and out of sorts with no job. But not to fear, as Liverpool's newest manager, Roy Hodgson, threw the player a lifeline, and he signed on for four years at £90,000 per week.
Steven Gerrard and many of the Reds were very excited, and the season was full of hype for the arrival of one of England's once brightest stars. However, his season opening appearance ended quickly, as he was red carded on his Liverpool debut for a tackle on Laurent Koscielny that was deemed malicious but was clearly unintentionally so.
That seemed to be an omen for how his season would go, as he failed to impress throughout the season and ended it with only nine starts and 11 substitution appearances in the league and only totaled three goals throughout all competitions between another 12 appearances.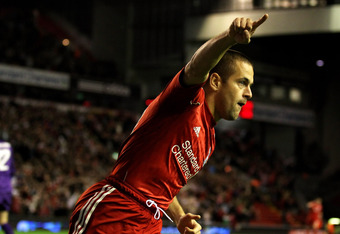 First Goal at Anfield in Europa League
Alex Livesey/Getty Images
So now, he once again is at a crossroads. His club is in the midst of the biggest revival in their history, as a change of ownership in October of 2010 saw massively in debt owners Geroge Gillett and Tom Hicks bought out by Boston Red Sox and Fenway Sports Group principle owner John W. Henry and Tom Werner.
Their previous revitalization of a professional team saw them return the World Series trophy to the Red Sox in 2004 and then 2007 after only three seasons. Those victories ended a drought that had lasted since 1918. Liverpool have been without a League title since 1990, and the goals of the new owners are clearly to bring that former glory back to England's most successful team.
Joe Cole is on the cusp of being worth keeping on the roster, and his high weekly wage bill is hindering further investment of the club. However, if he is on top of his game, he can be one of the best wide players England has seen.
The problem for Cole is that it has been quite sometime since that happened. His pedigree and former achievements show what he is capable of, but his aging body is letting him down. He turns 30 in November, and the clock started ticking on his Anfield career in January of this year, when Kenny Dalglish took over at the helm.
King Kenny knows all too well what he is tasked to do with Liverpool during the next few years, as he is truthfully the one manager that knows what the Reds are all about. He is the last manager to have won multiple titles with the club in the 1980's.
However, the Scot has been a spearhead for the Reds to spend over £100 million in the transfer market since January. There also looks to be more signings to come in during the next windows and beyond, and Joe Cole is only going to have a limited amount of time to try and make any headway back to the top of the pile as he faces overwhelming competition to get a midfield place at Anfield.
New boy Stewart Downing, Jordan Henderson, Maxi Rodriguez, Alberto Aquilani, Raul Miereles, Luis Suarez and even Dirk Kuyt are completely ahead of Cole for a shot at first team action.
In truth, his past would normally make someone take notice that he may just need more time, but after a season of mediocre performances and a new regime hellbent on getting back to the top no matter the financial or physical costs, Cole looks to be out of chances.
If it were a perfect world the once shining star would get his second chance, but I just do not see it happening at Liverpool. With the Reds truly wanting to push for the title in the next seasons, they have to have reliable players that are heading into their prime and not floundering through what should have been their best years.
I am sorry, Joe Cole, but you have not gotten the time for a second chance at Anfield. At the most, you may stay on until January, but by then, you will be either shipped out on loan or sold to the best financial option if you do not prove some worth. Tottenham and Paris Saint Germain both have expressed interest, and if he does not leave now, he will soon.
With only what I believe to be about 18 games time to make a case for himself in either league substitutions or Cup tie brilliance, he just is not going to be able to stay on as a Red.
You can follow me on Twitter
@thedailyatz
and
Facebook
or visit my personal
WebSite