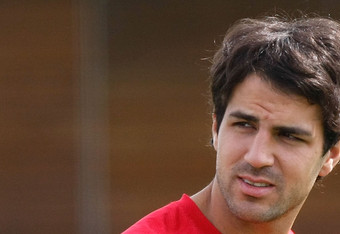 Tom Dulat/Getty Images
(
Bleacher Report
)As the transfer window winds down, Arsenal's Cesc Fabregas win continue to wonder if he will finally get his move this summer. The last two years have seen the Spanish club try and reclaim their once youth player.
The most recent news surrounding the player draws some attention as Fabregas did not travel with the Gunners as they have headed out to Portugal for their final friendly of preseason against Benfica.
It is uncertain what this means for the player or for manager Arsene Wenger. When asked in his press conference yesterday about what it meant for the future of Fabregas at the London Club, this is what was replied by the French manager on the clubs official website:
"I do not want to speak about the transfer of Fabregas because I have done that three years now in every press conference so I don't think there is any more need to add something."

"I love Fabregas and I want him to stay, that is basically it."

"Everybody is free to think what they want. We cannot stop people raising questions."

"He is just coming back from injury and is not ready to play in a game. But he is not injured."
The latest bid for the player is believed to have been turned down according to ESPNsoccernet.com, and as the final weeks start coming to a close the pressure is on for Fabregas to be back in Spain within the next several days.
You can follow me on Twitter
@thedailyatz
and
Facebook
or visit my personal
WebSite