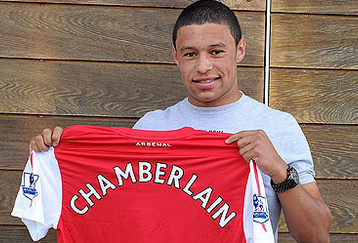 (
Bleacher Report
)Arsene Wenger is at it again as he has signed yet another U18 starlet in Southampton's Alex Oxlade-Chamberlain. There is already news of a fan backlash for the youngsters signing as the Gunner's faithful are in deep despair over the defensive and goal keeping situation at the Emirates.
Chamberlain joins the Gunners for an initial fee of £12 million that is set to grow to a grand total of £15 million and had these remarks upon his revealing as the newest Gunner:
'I'm so excited to be joining Arsenal. It's a fantastic club and I'm really looking forward to the opportunity of playing football at the highest level.
'Arsenal have a great manager in Arsene Wenger, top quality players and an attractive style of play. These were all important factors in me choosing to sign for Arsenal.
'I'm now looking forward to meeting all my new team-mates and giving absolutely everything in an Arsenal shirt.'
The Saints have collected quite a solid return for the rather unproven Premier League capabilities of the player who scored nine goals in the Championship last season in 34 appearances. Gareth Bale is the last big name to come out of St. Mary's and if the young attacker can do as well as his former club mate he will do quite well.
However, with the gaping holes that Wenger appears to have at the back, and with an already over bearing youth contingent the fans may not be able to understand the signing of a youngster for such a high price when the Gunners could be focusing where it seems more needed.
Both Gary Cahill, Scott Dann or Chris Samba could have been secured for that type of money, and any of them would have been to much more immediate benefit to a squad that is losing its winning ways over the last few season thanks to a porous defense.
You can follow me on Twitter
@thedailyatz
and
Facebook
or visit my personal
WebSite