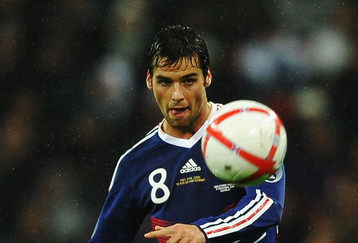 Laurence Griffiths/Getty Images
(
Bleacher Report
)If you want to trade apples for apples or Frenchmen for Frenchman, Arsenal could look no further than Olympique Lyonnais 25-year old Yoann Gourcuff. The former AC Milan player found his feet while on loan at Bordeaux in 2008-09 and has been a sensation in Ligue 1 ever since.
He scored 24 goals and provided 26 assists in 95 total appearances for Bordeaux in his two seasons at the club and proved that he was a top class talent. His performances earned him a move to Lyon at the start of last season.
However, his first season at Lyon saw his form drop as he struggled to fit in with his new teammates and only scored four goals and dished out five assists.
With his career in need of a boost Arsene Wenger could possibly get him for a much better price than Modric as he would likely cost around £15 million, which is £10 million less than Modric.
The sticking point for the player could be his remaining four years of contract that could cause the Gunners to try and meet a buyout clause which would most likely see the deal squashed.
Wenger could be the one manager to truly get his young fellow countryman back on his path to success. His proven scoring ability is a need for an Arsenal midfielder as his ability to provide the creativity as well. Gourcuff could be a total package in disguise if Wenger were to go after him.
You can follow me on Twitter
@thedailyatz
and
Facebook
or visit my personal
WebSite