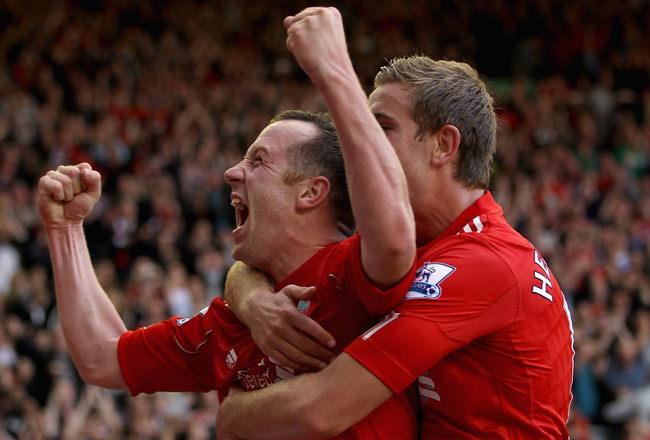 LIVERPOOL, ENGLAND - AUGUST 27: Charlie Adam of Liverpool celebrates scoring his side's third goal with team mate Jordan Henderson (R) during the Barclays Premier League match between Liverpool and Bolton Wanderers at Anfield on August 27, 2011 in Liverpool, England. (Photo by Clive Brunskill/Getty Images)
(
Bleacher Report
)Jordan Henderson Joined the Liverpool Reds as their first major signing of the summer. The England U21 international and Sunderland midfielder came for the price tag of £20 million. In the BBC Sport article that broke the story Henderson had these comments:
"I'm over the moon, overjoyed to be here and I'm really looking forward to it."

"Obviously it's hard to leave your local club. I'm a Sunderland lad, I've supported them all my life.

"But I'm really looking forward to the future now and obviously this is a massive opportunity for me. I'm really excited by it."
However, the majority of fans were perplexed by the signing. Was the 20-year old really worth £20 million? David N'Gog was also originally part of the deal but that collapsed as the out of favor forward is currently looking to make a move to Bolton Wanderers.
Henderson was not really understood to be a major signing as the pundits immediately played it off as the youngster just being brought in because the Reds lacked the ability to attract top class talent.
What the press continued to forget was that Henderson has been a solid Premier League starting player since the 2009-10 season when he made 38 appearances for Sunderland while scoring two goals and providing 6 assists.
Last season for the 2010-11 campaign he again was a full time member of the Sunderland first team making 39 appearances scoring three goals and notching five assists to his teammates. Those two seasons had him well prepared for a transition to a new club.
He had bright spots in preseason for the Reds but was seen in limited amounts of time after having played for the England U21's in the European Championship for that age group during the beginning of summer.
Just as well he got off to a bright start with the Reds making his debut on opening day against his former club in what would eventually be a 1-1 draw between Liverpool and the Black Cats.
His second performance against Arsenal would also go well with the Reds grinding out an eventual 2-0 victory at the Emirates Stadium.
Henderson had one of his best games when the Reds traveled to Exeter City midweek for their Carling Cup match, and he would be the provider of the cross that found Luis Suarez for the opening goal.
However, the Saturday afternoon match against Bolton Wanderers proved to be his coming out party. The Reds started the game brightly and had several chance on goal in the first 20 minutes. But it would young Henderson that would get himself off the mark in front of his new fans to put the Reds in the lead.
The player made a first attempt that rolled back to him and he then bent it into the far top corner from just inside the penalty area on the right hand side. It was a sublime effort for the Englishman and it should be the first of many moments to come that answers many questions of him.
Another key fact is that as of Sunday morning he is tied joint second of the English Premier Leagues key passers category on 78. The player he is tied with is Stewart Downing, another criticized new Liverpool player.
Without a doubt I believe the 20-year old Wearside born player is truly on his way to making a great name for himself on Merseyside. I still cannot wait to see him combine with Andy Carroll for a goal, the elements of their former born and bred rivalry would make it a magical moment in many ways.
Charlie Adam has been in the same boat with Jordan Henderson since his arrival on Merseyside. Talking with LFC.tv he made these statements upon finally completing his deal to move to Liverpool:
"I am absolutely delighted to be here," Adam told Liverpoolfc.tv.

"It has been a long process but now I can't wait to get started and hopefully this will be a successful period in my career and in the club's history."

He added: "Liverpool is a massive club with terrific players and a terrific manager.

"I see this as the perfect development for me to come here, play with such wonderful players and hopefully help the team to win trophies, because that's the most important thing.

"I'm delighted to be able to walk out on the same pitch as some of the players here.

"There are good players at the club, top, top players who I want to learn from. I want to become a better player and hopefully bring something to the team.

"Hopefully we can have a successful period because it's been missing now for a couple of years.

"At the end of the day you get judged on trophies and as a footballer you want to win as many as you can."

"This club has had a lot of success over the years, so let's get back to doing that."
Without a doubt Adam was wanted by Kenny Dalglish, and the younger Scot was just as keen to make the move to Anfield. His deal was said to be worth £9 million which is about the same as he would have joined for in January of last season if he had been allowed.
He scored in his opening preseason game in the Reds Asian Tour, and continued to look decent throughout the Reds training games. The opening match against Sunderland saw him involved right away as he placed a free kick perfectly for Luis Suarez to nod it home and allowed the Uruguayan to make amends for the penalty he had just blasted 5 yards over the bar.
Adam looked to be developing his understanding with Lucas Leiva at the heart of the Liverpool midfield but he was still a getting used to his new teammates.
The second game against Arsenal was perhaps his worst performance so far as he gave the ball away more than the first match and his set pieces were not up to par. However, the Reds still found a way to get the three points.
Against Exeter he again looked in better shape as he made some great passes and set piece deliveries in the 76 minutes he was on the pitch.
But just as with Jordan Henderson, it would be the Bolton Wanderers clash that saw Adam become a true Liverpool player. He made great deliveries all day and it seemed only a matter of time before he would make an impact.
In the second half he lined up for a corner kick at the 52nd minute and his delivery was the best of the day as first half substitute for Martin Kelly, Martin Skrtel was celebrating the Reds second goal before Bolton Wanderers keeper Jussi Jaaskelainen knew what had happened.
The icing on the cake would be that Adam got off the mark as a Red just a minute later as he knocked one in from outside the box.
Adam just like both Henderson and Downing is in the top ten of the EPL's key passes charts with 64 holding down eighth place with Tottenham's Luka Modric. He is also seventh on the chart for the most total passes with 1883 showing just how much influence he has had on the midfield play since joining the Reds.
Conclusions
I can honestly say that they have both answered the majority of any questions I truly had to ask of them. When Sir Alex Ferguson said Charlie Adam's free kicks were worth £10 million a year he was not joking and I think more people may be believing that after Saturday.
Jordan Henderson looks to be a truly remarkable talent at his current pace, he honestly could be a beast in another couple of seasons. Steve Bruce said these words about his former charge when he left for Liverpool:
"First and foremost, we wish the kid (Henderson) well. He has had a meteoric rise, from being a youth team player here within two years to go and play for England and command the fee he has commanded.

"I sincerely wish him the best of luck.

"Because of the way he is as a boy, he has got an outstanding chance of being a really top, top player.

"Sometimes you have to see the bigger picture and realise that, okay, these things happen."
With such a bright future ahead for both players at Liverpool I believe they will both have a huge part to play as the Reds are looking to take any chance at Silverware they have this season with both the FA Cup and Carling Cup being as big of a focus as a possible league title challenge that might be more possible than many believe.
The Reds can rest feeling a job has been well done as for at least the next 12 hours they can enjoy siting at the top of the Barclay's Premier League table for the first time since May 9th, 2009 when they were so close to taking the title back from Manchester United, but failed to take advantage in the last three fixtures that season.
You can follow me on Twitter
@thedailyatz
and
Facebook
or visit my personal
WebSite