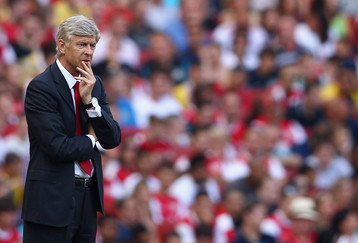 Richard Heathcote/Getty Images
(
Bleacher Report
)Arsene Wenger is accusing the transfer sagas of both Samir Nasri and Cesc Fabregas as the reason for their not being more signings for the Gunners this summer. Two days ago he promised that a signing of "Super Quality," would be arriving next week.
Let us hope that he was not referring to the addition of Alex Oxlade-Chamberlain because I will be horse laughing and most Arsenal fans will be cringing at the thought as they start calling for the Frenchman's head.
The under pressure manager had these words published in a recent ESPNsoccernet.com article:
"Ideally I would have finished all [our business], but it doesn't work like that,"
"We work very hard, we are non-stop working throughout the summer. It's all kinds of things you meet during the transfer market, but I can understand the impatience of people."
"We want to add not quality, but super quality."
"We hope to give you some good news soon. Next week, something might happen."
In all honesty it seems his desire to hold on to player desperately wanting out is causing the real problems with the summers dealings. He has been offered over £50 million between both Samir Nasri and Cesc Fabregas.
Fabregas wants to go so bad he is willing to use his own £4 million in bonuses to get out of London. How much more convincing to you need Mr. Wenger?
That amount alone could purchase which ever combination of defenders from amongst his targeted Gary Cahill, Scott Dann, Chris Samba, Phil Jagielka and Jose Enrique.
The signing of there of them at the most would have been worth the £35 million offered by Barcelona for Fabregas that was rejected once again. That still leaves another £22 million that Manchester City have on offer for Samir Nasri.
Out of that he could purchase a new quality keeper, he could have bought Maarten Stekelenburg for only £4.6 million which is what Roma paid for the 28-year old Dutchman. Then that would leave another £17.4 million to add an additional attacker to cover for the Robin Van Persie who despite is amazing talents will probably get injured once or twice this year. Wait actually RVP is already injured and the season has yet to start.
You can follow me on Twitter
@thedailyatz
and
Facebook
or visit my personal
WebSite