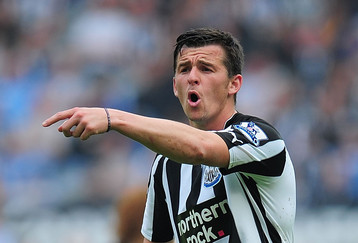 Stu Forster/Getty Images
(
Bleacher Report
)Although it seems highly unlikely, Liverpool could be looking at a third member of Newcastle United's squad to join the ranks of the Anfield midfield. Joey Barton is the latest Magpie that appears desperate to leave with both Liverpool and Arsenal amongst the clubs believed to be interested in the player.
Last season on the Toon was perhaps his best season in his career, and he could be looking to take full advantage of that with a move to follow Any Carroll and possibly Jose Enrique out the door and down the highway to Merseyside.
The impending time of Steven Gerrard being absent seems to be the key motivator in Sportsvibe breaking the news of the boyhood Everton fan looking to join the Reds.
Once a pundit of Captain Fantastic and the entire England Squad following the 2006 World Cup with this quote published by the Guardian;
"England did nothing in that World Cup, so why were they bringing books out? 'We got beat in the quarter-finals. I played like shit. Here's my book'."
Gerrard was one of the players that came to Barton's defense over the comments and praised his honesty, and this could mean a great deal if they were to become teammates int he next few weeks.
In the end I believe the Reds are well stocked in the middle of the park and the addition of Barton would only further complicate the selection issue that will be a prime talking point for the Reds all season. But, if he were to come there definitely could be some more added excitement around the town.
You can follow me on Twitter
@thedailyatz
and
Facebook
or visit my personal
WebSite