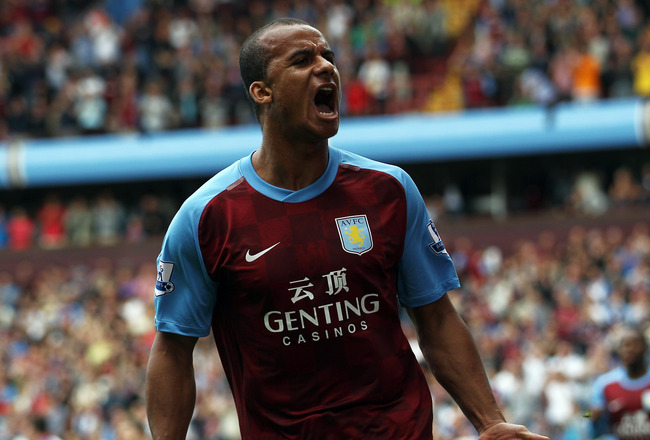 Dean Mouhtaropoulos/Getty Images
(
Bleacher Report
)The Barclay's Premier League heads into its third weekend of action on Saturday. A week of Carling Cup action as well as Champions League qualifying has seen it be an exciting week.
Several of the top-flight teams have already been dumped out of the first major domestic trophy campaign, and it leaves them with more time to focus on securing their place in the top flight for next season.
Wolverhampton Wanderers continue to be the surprise club out of the gates, as they are tied at the top of the table with Manchester United and Manchester City.
Aston Villa, Liverpool, Chelsea and Newcastle United all rebounded from opening day draws to secure their first victories of the season, leaving them in the middle at fourth through seventh place standings.
Below that comes all of those that are still to build more than a three-point collection in the first two weekends. Queens Park Rangers' surprise win over Everton sees them higher up than both other promoted clubs. Swansea City got a point against Wigan Athletic, who have failed to beat either of the new sides they have faced in the first two weekends.
Norwich City continue to be the only promoted team to be undefeated, but that is expected to possibly change when they travel to Stamford Bridge at the weekend.
With more transfers having gone through this week, the rosters and possible starting 11s of several teams have changed once again, as I expect to see another weekend with new faces on debut at new clubs.
The 10 matches on display this weekend only have one or two games that are expected to be lopsided, as there is potential for some excellent battles on Saturday and Sunday with most clubs are fairly evenly matched.
That being said, let's get to the previews for this weekends offering of games in Week 3 of the 2011-12 edition of the Barclay's Premier League......
CLICK HERE TO VIEW ALL THE ROUND 3 PREVIEWS FOR THE 2011-12 BARCLAY'S PREMIER LEAGUE
.
You can follow me on Twitter
@thedailyatz
and
Facebook
or visit my personal
WebSite