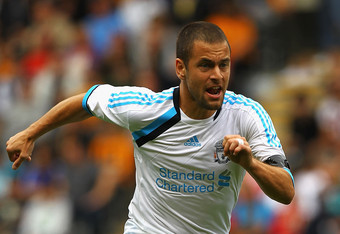 Matthew Lewis/Getty Images
(
Bleacher Report
) Kenny Dalglish told the Liverpool Echo on Saturday that he would not stand in the way of Joe Cole making a loan or transfer deal to another club.
The English player has had a rocky time on Merseyside which started with a Red Card in his first match on opening day last campaign. He would have flashes of brilliance but they were just to far and few between.
Dalglish had this to say in his latest talks regarding Joe Cole:
"I think it's being fair to the boys for them to go and get football somewhere."

"They were not going to get it here. There was no way we were going to stand in their way or prevent them from playing football."

"He (Cole) is here and he will be treated exactly the same as everyone else."

"Joe's attitude to training and his commitment has been fantastic. He has been unbelievable, he has worked really hard and he just needs a little bit of luck."

"He will be treated the same as everybody else as regards playing matches. If he gets a bit of luck, he will be alright."

"If Joe is here he will be very much part of it. He will not be discarded in any way shape or form. I have more respect for Joe Cole than that. He has been fantastic about the place."

"It is not just Joe Cole, it's everybody who is not playing that I find it hard. The strength of the club means there are going to be quality people who are not playing as well as those who are."

"I sympathize and empathize with players who don't get a game because I wouldn't have liked to have been in that situation myself. That is why I have great admiration for the players who aren't playing that they do apply themselves as well as they do."

"We have said before we are happy with the squad we have got, we are stronger than last year."
With that said it is apparent that if a move comes along that both the player and the club would like to take then it will most likely be a mutual agreement to allow the Englishman to leave.
The clubs linked to him at the moment are still Tottenham Hotspur as Harry Redknapp has had a long term admiration for the player. Queens Park Rangers have expressed an interest for a loan deal to take Cole to Loftus Road and there is still an outside chance of a move for him to Paris Saint Germain.
You can follow me on Twitter
@thedailyatz
and
Facebook
or visit my personal
WebSite