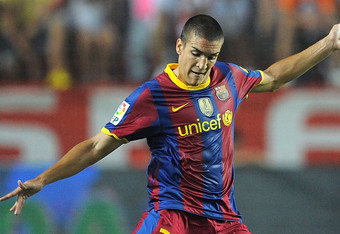 Denis Doyle/Getty Image
(
Bleacher Report
)Barcelona B squad midfielder Oriol Romeu is the latest member of the Nou Camp to move to England as the 19-year old player will move to London after agree to terms on a four-year contract. His starting fee is 5 million, but his contract has additional options that Barcelona may exercise in time.
The additional terms are primarily a €10 million buy back clause after the first season, and then will raise to €15 million after the second season. He has been compared to Sergio Busquets as the next defensive midfielder in the Barca system.
This inclusion suggests that the Blaugrana still value the player more than could be believed, and had the club not been in the middle of trying to raise the money for the purchase of Cesc Fabregas currently, the player might have only moved on loan.
Experience is was the Nou Camp club need their younger players to receive, but right now they are in the hunt for cash more than anything as they attempt to reduce their debt, and purchase another midfield.
Youngster Romeu however, like another former Barca midfielder, has dreams of one day returning home to Catalonia.
You can follow me on Twitter
@thedailyatz
and
Facebook
or visit my personal
WebSite