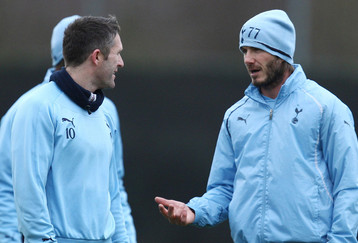 Seriously Robbie, I would love to cross the ball into you in warmer Weather back in Cali.
Pool/Getty Images
(
Bleacher Report
)Irish striking legend Robbie Keane could be set for a move to the United States as the LA Galaxy are believed to be offering the player a two-year contract that would see him join from Tottenham Hotspur for a fee of £5 million.
Over a year ago Keane had been linked with a move to the MLS but nothing materialized as he returned to Spurs from Liverpool after what had seemed at first like a match made in heaven, but it went south rather quickly.
Keane would be set to join forces with David Beckham as the second biggest English transfer to move to the Hollywood club. The Irishman's wife, Claudine Keane, would fit right in with Victoria Beckham as another fine specimen for the Bleacher Report Swagger writers to gawk about.
A move to the MLS could see Keane explode onto the scene once again as he has all the skills to be one of the best in the history of the game had he been in more places at the right time as opposed to almost every place at the wrong time.
The majority of the moves in his career imploded because they were either too soon or too late, and for once this could be his chance to move to the right place at the right time as at only 31-years old he could have as many as six or seven good seasons at the lower level of competition to the English game.
You can follow me on Twitter
@thedailyatz
and
Facebook
or visit my personal
WebSite