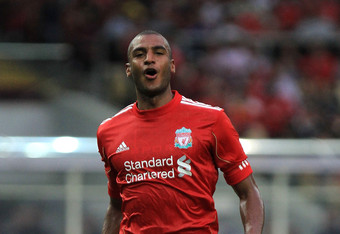 Stanley Chou/Getty Images
(
Bleacher Report
) Behind all the current Craig Bellamy and Sebastian Coates transfer news for the Reds is the continuing possibility of young French striker David N'Gog and his proposed move to Bolton Wanderers.
N'Gog is a left over prodigy of the Rafael Benitez era and he has so far totaled 94 appearances for the club scoring 19 goals for the Reds. Owen Coyle has admitted to wanting to bring the player in since week one.
He has been on the Trotters radar since this middle of summer and with him being confined to the Reds reserve squad so far since the end of preseason, he could jump at the chance for first team action at least twice as likely at the Reebok.
Bolton have been in need of additional attacking options since the departure of Johan Elmander, and the expiration of Danny Sturridge's loan deal from Chelsea. N'Gog could be the solution for a time and it is believed he would move for around £4 million.
Dirk Kuyt has taken up the third striker spot when he is not deputizing on the right flank. If the Reds do sign Craig Bellamy, then the 22-year old Frenchman is effectively out of a job.
It has also been said that despite the Reds interest in a move for Bolton's Gary Cahill, the switch of N'Gog to the Reebok would be a completely separate deal.
You can follow me on Twitter
@thedailyatz
and
Facebook
or visit my personal
WebSite