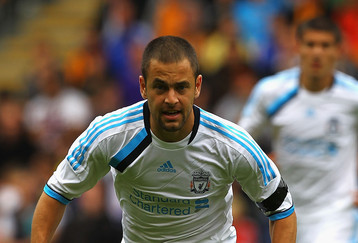 Matthew Lewis/Getty Images
(
Bleacher Report
)Joe Cole has been at the middle of Liverpool's exit rumors since the opening of the summer transfer window. The English winger was brought in with high hopes that he could regain his top class form that saw him become a much hyped international before a series of injuries shot him down.
However, last season he did not prove to be worth but a small portion of the £90,000 per week deal that was laid at his feet when he completed a free transfer from Chelsea. After a preseason where he still failed to truly impress, he looks once again to be a hot topic of discussion.
Tottenham Hotspur and Paris Saint Germain both look to be possible suitors for the Anfield disappointment, and perhaps a move to France might be the best option. It could give him a chance in a less physical league with a lower level of top to bottom competition which could see him return to full form.
Another possible destination could be newly promoted Queens Park Rangers. QPR could use the extra depth and experience, and Cole would have a better chance to shine in a club where he could become a primary focus.
You can follow me on Twitter
@thedailyatz
and
Facebook
or visit my personal
WebSite