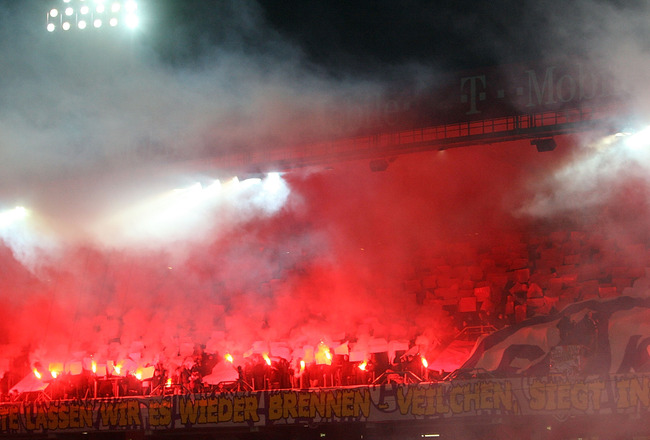 Mathias Kniepeiss/Getty Images
(
Bleacher Report
)What comes to mind you think of the term home-field advantage? To some clubs it is just a saying and a hopeful truth, while to others it is a true existence as their stadium and their fans have a profound effect on the opposition.
To say that football is a game that brings out the full passion of its fans in an understatement in many different categories. While a stadium can be imposing for the opposition, it is the atmosphere that a clubs fans provide in their cauldron that truly has a means of giving their beloved players a boost like no other.
In the end it comes down to the atmosphere that is invoked when the fans are in full voice and the moment is the most intense. That is when the magic of home-field advantage is truly realized and becomes a reality.
Some venues however take home-field advantage to another level as it can truly be a hostile place for the opposition to enter no matter if it is a rivalry game or not. That level of intimidation for the away team has led us to take a look at the most hostile Stadiums in the World of Football today......
Click Here to Start Slideshow
.
You can follow me on Twitter
@thedailyatz
and
Facebook
or visit my personal
WebSite