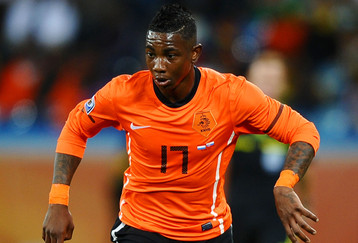 Laurence Griffiths/Getty Images
(
Bleacher Report
)Hamburg HSV and Dutch International left midfielder Eljero Elia could bring his attacking flair to Arsenal in the absence of Samir Nasri. The young player made a huge splash in the 2009-10 season as he scored six goals and provided eight assists in his first full season in the German Bundesliga.
Since then he has been linked all around Europe and England with Chelsea, Liverpool Juventus and Arsenal all possible suitors for the 24-year old. At his age he is in that age niche that Arsene Wenger likes to exploit.
He is just young enough to have loads of improvement before he reaches his prime, but he is old enough to have valuable experience in a top European league.
Wenger has a history of honing his young players skills at that age, and Elia has a unique skill set of speed and quick passing that also plays well into the Frenchman's fluid playing style.
In most cases the young Dutchman could be a remarkable value at around £6 million and it would allow plenty of left over funds for Wenger to continue spreading around the park to bring in at least another midfielder, defender and center forward.
The most recent rumors for the player have him said to prefer a move to Arsenal or Chelsea over Italian giants Juventus whom reportedly are the current highest bidder for his services.
You can follow me on Twitter
@thedailyatz
and
Facebook
or visit my personal
WebSite