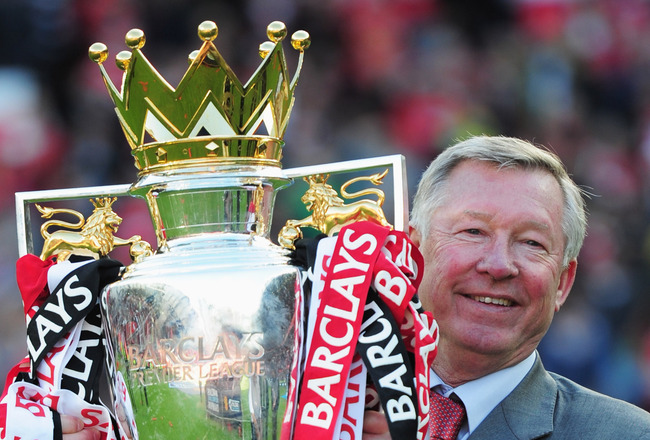 Can the Old Scot Do It Again this Season?
Shaun Botterill/Getty Images
(
Bleacher Report
)Despite all the hype, several games look to be on the verge of being postponed thanks to the unrest that is happening all across England. Nevertheless this preview goes ahead as planned.
The day we all have been waiting for is finally here. The summer transfer window is nearly finished and teams are still scrambling to finalize their last minute additions and subtractions for the season that is now afoot.
Saturday opens up the 2011-12 Barclay's Premier League season with a seven game slate of matches that are sure to get all of our blood pumping. It has been only a few months but I have missed the thrill of weekly league matches and the start of Cup ties.
For two months we have speculated and debated over what will come of this season and which teams will be the surprise or expected performers.
This weekend we will get the first taste of all our thoughts, as some great match-ups and drama will already be giving us a tease of what could happen when we reevaluate the expectations come January.
Manchester United will hope to retain their title, while Chelsea and Manchester City look to upend the Red Devils' chance at a repeat. Liverpool claim that the Champions League is their target for next season, but it would be unlike Kenny Dalglish for him to try and chase anything other than a League title after United over took the Reds in the all time Domestic title charts last season.
Big name transfers from within the league and from Europe also look to have an impact on the season as all of the top six, save the North London Derby contingent of Tottenham and Arsenal, have done their best to improve. You may say Arsenal have improved with the addition of Gervinho, but they need a keeper, a defender and with Samir Nasri looking to ride the coattails of Cesc Fabrgas out the door, they might be in need of a whole lot more with little time to pull it off.
Regardless of how it all plays out, this weekend is going to be great to watch. So let's get to the predictions for the coming week with my first of this season's EPL weekly previews right here on your very own Bleacher Report......
CLICK HERE FOR ALL THE MATCH PREVIEWS
.
You can follow me on Twitter
@thedailyatz
and
Facebook
or visit my personal
WebSite