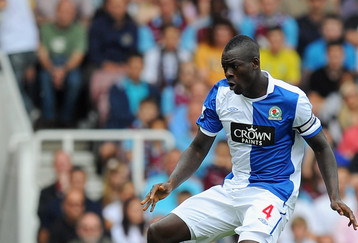 Mike Hewitt/Getty Images
(
Bleacher Report
)Blackburn Rovers defender Christopher Samba has been on Arsenal's radar for most of the summer. Arsene Wenger knows that despite his apparent lack of defensive worry in front of the press, his squad is ripe with defensive falterings in the middle.
Thomas Vermaelen is top class but he has spent far to much time injured in the last seasons. Laurent Koscielny is decent but not world class, and Sébastien Squillaci in all honesty is not worthy of the Gunners kit.
Samba is estimated to cost the Gunners around £16 million, and now that Fabregas has moved on the London club have the funds available to make the transfer happen if Wenger and Blackburn both wish it to be so.
For the sake of Arsenal fans I hope that the deal could be done for them as Samba I believe would add great stability to the Gunners defense, and could be an additional goal threat to Vermaelen in the middle with 16 goals in his five years at Ewood Park.
Rarely injured, and premier league battle tested, the Congo international could be a great addition to the squad with his next five years the prime time of his career.
On top of it all the players Champions League ambitions are more likely to be scene through at Arsenal than Blackburn despite the past six years having been trophy less.
You can follow me on Twitter
@thedailyatz
and
Facebook
or visit my personal
WebSite