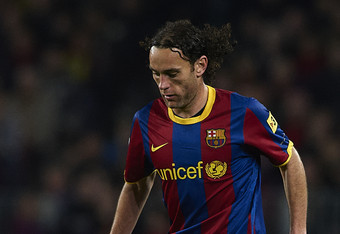 Manuel Queimadelos Alonso/Getty Image
(
Bleacher Report
)Argentine defender Gabriel Milito joined Barcelona in 2007 from Real Zaragoza, but since that time a series of chronic injuries have limited him to only 75 first team appearances for the club as Gerard Pique rose to prominence as Carlos Puyol's primary partner at the back.
After four seasons at the Nou Camp, he has made his return to Argentina after Barca allowed him to leave a season before his contract was due to expire.
The player had been linked to several others club with both AS Roma and Bayern Munich supposedly having looked into the player as well.
His return to Argentina will see him rejoin Independiente where he started his career. The move appears to be one of great enthusiasm for the player as he made the following comments as quoted by Goal.com:
"I had a great desire to return to my country and home, and I felt the need to go back to Independiente. We were able to meet and talk about that possibility, and thank God it went through," the Argentina international told reporters.

"It is a very special day, I always dreamed of returning and enjoying this moment. It is a dream come true, and I hope this new spell will be as good as the first."
his move will most likely see youngsters such as Marc Muniesa have a few first team appearances in the coming seasons.
You can follow me on Twitter
@thedailyatz
and
Facebook
or visit my personal
WebSite