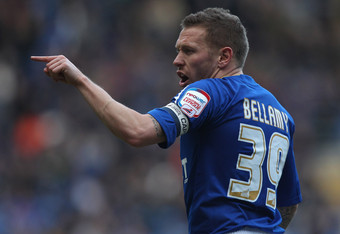 Michael Steele/Getty Images
(
Bleacher Report
) News and speculation regarding a possible Liverpool return for Manchester City outcast Craig Bellamy has been picking up more and more steam in the last week.
Bellamy played one season on Merseyside for Rafael Benitez during the 2006-07 campaign when he made 41 appearances scoring nine goals for the Reds before parting ways in July 2010 to West Ham United for a fee of £7.5 million.
The move is believed to have been due most likely to tension between Bellamy and Benitez after the player reportedly assaulted then teammate, now Fulham defender John Arne Riise, with a golf club.
Despite his former transgressions, the 32-year old is just the type of player that can provide the spark Kenny Dalglish wants to have ready and waiting on the bench for the Reds.
Roberto Mancini has been working to make a deal happen for the player as can be taken from these comments:
"Craig is a good player and it's important for him and for me to find a good solution," Mancini said. "It could be (Liverpool) and it's important players from City can go to a good team. We have another week and I hope can find a good solution."
Along with Mancini being supportive of the transfer of Bellamy to Liverpool, his current Welsh national team manager Gary Speed has also backed the move with his comments:
"Liverpool are a fantastic club and if that is true and it comes off, that would be great."

"Hopefully by the end of the transfer window things will be sorted out."

"It is only natural Craig is going to be linked with top clubs because he is a top player."
Bellamy could be a risk, but he could turn out to be one worth taking as he has consistently scored at least nine goals per season since 2001 when he was still with Newcastle, and that veteran attacking presence is something that the Reds have been lacking upfront.
On top of that, a proven goal scorer on the bench is nothing that most managers would not want for themselves either and Bellamy could be just that for Kenny Dalglish.
You can follow me on Twitter
@thedailyatz
and
Facebook
or visit my personal
WebSite