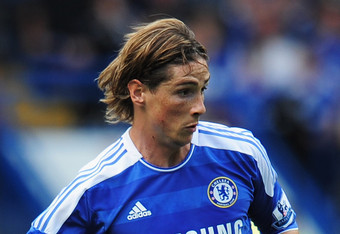 Shaun Botterill/Getty Images
(
Bleacher Report
) He was believed to be the Blues future, the next legend to lift the Barclay's Premier League Trophy at Stamford Bridge and be the talisman to take over the throne of Didier Drogba as the spearhead of the Chelsea Attack.
However, £50 million plus 21 appearances and only one goal later the once prolific Liverpool goal machine is on the edge of stagnation in London. What he believed to be the best move of his life may just have turned out to be devastating to his future.
The arrival of Kenny Dalglish last January at Liverpool had seen the Spaniard begin a return to form as the Reds legend knew exactly what it was like to have a bad patch leading the line as he had been in the same spot at times.
It seemed that the damage had already been done to Torres' though as a disappointing seventh place finish that saw Rafael Benitez exit Anfield, a poor appointment with Roy Hodgson at the helm and too many seasons without a trophy looked to have taken all the fight out of the Spaniard.
Unfortunately for Torres his move to London has not turned out so well. In most cases he has proved largely ineffective for the Blues upfront and has failed to replicate the deadly strikes he called upon in front of the Kop since making his move.
Juan Mata's debut goal was set up by a pass from Torres and perhaps the arrival of a fellow country man is just what the out of sorts front man needs, but that remains to be seen.
Current reports have Torres in the media as a possible last minute target for his old club Atletico Madrid as they have been tracking their former Captain. He also has been attracting interest from Spain's newest side on the rise Malaga who would more than likely have the funds to make a move if they saw the opportunity.
In all likely hood Torres will be given at least the full season to prove his new manager either right or wrong, but if he fails to produce this year I could see him making a cut rate move in late January or next summer.
You can follow me on Twitter
@thedailyatz
and
Facebook
or visit my personal
WebSite