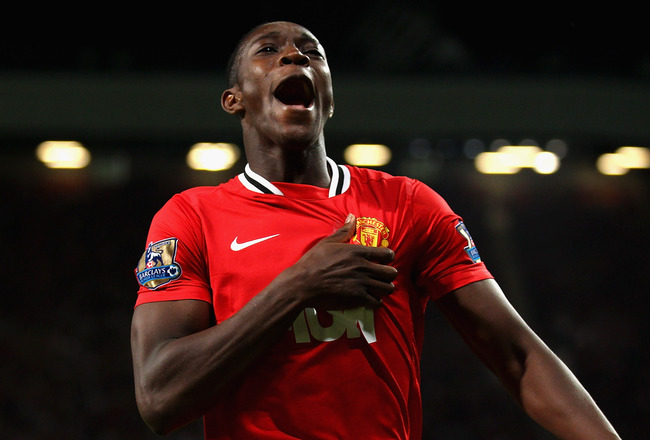 MANCHESTER, ENGLAND - AUGUST 22: Danny Welbeck of Manchester United celebrates after scoring the opening goal during the Barclays Premier League match between Manchester United and Tottenham Hotspur at Old Trafford on August 22, 2011 in Manchester, England. (Photo by Alex Livesey/Getty Images)
(
Bleacher Report
)Manchester United currently are joint top of the table as they look to keep their streak going against an Arsenal team that is experiencing loads of change this season. The Red Devils have had great success so far this season with an invigoration of new youthful talent.
The Gunners made their way into the Champions League this week thanks to a superb effort in the second leg to assure they went through against Udinese. It means there once again is hope of an all English semi-final round but Arsene Wenger has to sort his team out in the league as well.
Sir Alex Ferguson has managed his team well through the first two games by securing victories over a tough West Bromwich Albion team, as well as an unimpressive Tottenham Hotspur club last week.
However, the Red Devils have experienced an injury crisis of their own with their two star center half's in Nemanja Vidic and Rio Ferdinand being out for the time being as well has having lost Rafael Da Silva. Patrice Evra is touch and go but should once again be in the starting line up.
Great performances against Tottenham by both Phil Jones and Chris Smalling have many believing that the returns of Vidic and Ferdinand will be met with a tough test to get back into the first 11 automatically as Smalling in particular has shined since the FA Community Shield Victory.
I expect a great matchup as even though the Gunners are down, Wenger always has them ready for a good hard fought battle against his old rivals up north at Old Trafford.
Keeper
David De Gea is sure to start. Despite his early rattlings in the opening match's, most notably being caught out at times appearing to be behind the pace, the young Spaniard has shown much promise. I believe he will only get stronger under Ferguson's tutorship.
The Back Line

Jonathan Evans and Phil Jones are my believed men to hold their places at the center of defense. Both have continued to display poise and class beyond their years and they look very promising for United's future.
Patrice Evra will start on the left and will be his leadership at the back that will guide the three youngsters and his keeper to keep making forward moves. Chris Smalling has proven a great stand in at the right back position and his versatility will see him get much playing time this season.
The Midfield
Ashley Young has been excellent since his arrival and I expect nothing less of him as he retains his place in continuance of his great form. Nani as well has been on top of his game and his creativity has had great influence in what could be the season in which he comes of age.
The center of midfield has been held down by an unlikely duo that emerged as the summer preseason went on. Tom Cleverly returned from a great loan spell and has been a permanent fixture in Sir Alex Ferguson's line-up since. Just as well Anderson looks to finally have developed to his potential and is reaping the rewards.
The Attack
Wayne Rooney as always is one of the most deadly and well rounded strikers in the game. Rooney also has already gotten himself into the top of the scoring charts with a goal in both the West Brom and Tottenham victories.
Danny Welbeck returned from loan this season after having a good showing for Steve Bruce and Sunderland last year. He scored against Tottenham last Monday night and looks to have a good run of form going as he is holding the place of Javier Hernandez while he recovers to complete fitness.
Supersubs in Waiting
Dimitar Berbatov and Javier Hernandez will most likely be the striking options on the bench. Berbatov could be leaving the club before next week, while Hernandez is still not at 100% fitness as he is making his way back from the head injury he picked up in preseason.
Ryan Giggs, Michael Carrick and Ji-Sung Park will be the likely candidates for a possible run out in the middle or wide areas of the park should the need arise.
Rounding out the last two places on the bench are Fabio da Silva and Tomasz Kuszczak. Fabio will be the only real option available for a defensive run out as the United defenders available and still fit are slim.
Conclusion
The Red Devils will surely be looking to take advantage of a much weakened Arsenal, and are the most likely to take the majority of the points. However, you can never count out Wenger and any group he puts on the pitch as he has the ability to prove you wrong every single time.
I think it will be cagey for the first half with United getting ahead 1-0 around the 30th minute. Arsenal should hold until after the break and despite getting at least one past De Gea I see the Gunners going out 3-1 away to United.
You can read my full match preview from Thursday here.
You can follow me on Twitter
@thedailyatz
and
Facebook
or visit my personal
WebSite